Bridgeport CT
Location and Directions
We like the "new" Bridgeport CT DMV Office and it is easier to locate than where it used to be. The area they have for parking is a bit bigger, and it's nicer. When you go inside, they have an information line, and you pick up a number.
They seem to be alot more organized than at the other place, and depending on what you are there for, determines how fast you get out of there. I usually take a book to read.The Bridgeport DMV employees need to be awarded a medal for Endurance and Patience. Read what happened when we went to register our motorcycle
BRIDGEPORT FULL SERVICE DMV
For hours open, fees, and information, visit the
Official Connecticut DMV website
95 Sylvan Ave.
Bridgeport, CT 06608

BRIDGEPORT DRIVING DIRECTIONS:

I-95 North or South: Take exit 27A
, (Routes 25 and 8 connector).
Proceed to exit 5, on Route 8 (Boston Avenue/North Avenue)
Go straight to the end of the exit ramp (
Do not bear right
).
At the end of the exit ramp turn left onto Chopsey Hill Rd.
At the next traffic light turn right onto North Avenue/Route 1.
Then turn right again at the first street on the right (Sylvan Avenue).
The easiest way to get to the new Bridgeport Office is from Route 8, North or South, and it sits right next to the car dealership. There's a McDonald's down the street but you don't go that far. So Exit 5, and follow the exit around till you get to the main overpass and at the second light, make a right, then take your next right.
See
map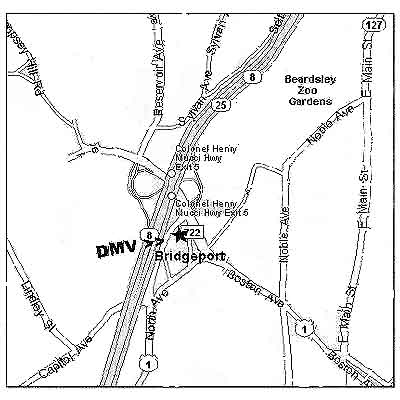 Save time and money! Shop Online with Peapod in Connecticut