Studying for the
Connecticut Written Test
This webpage is a start for a study and outline of the CT DMV Driver's Manual.
My husband and son will be taking their driving test shortly, so I offered to make an outline, to make it easier for them to study.

Maybe this information will help others too.
The written test is given on a computer and you are given certain driving situations in which you must choose the best option.
What I've started below is a work in progress. The best thing to do is just read the manual.
I would also recommend you take some online written practice tests. My husband said they were very helpful, so you understand the wording of the questions.
Always read the question at least three times before you answer the question! Make sure you understand what they are asking and watch out for the tricky questions.
Read about the
driving test
RULES OF THE ROAD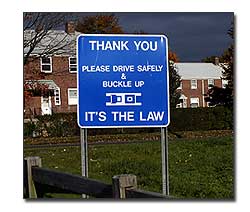 Traffic Control Signals - What they mean
Green Light - go through the intersection if it is safe (yield to emergency vehicles; wait till intersection clears)
Green Arrow - safely turn in the direction of the arrow (watch for pedestrians and oncoming traffic)
Yellow Light - caution - If you are in the intersection, proceed; if you are not, stop if safe to do so.)
Flashing Yellow Light - slow down and proceed with caution
Yellow Arrow - prepare to stop, then full stop, and yield to oncoming traffic(Right on RED after full stop)
Red Light - full stop - (if turning after full stop, proceed with caution, watch for pedestrians.)
Flashing Red Light - full stop, proceed with caution - (the same as a Stop Sign)
Red Arrow - full stop - do not turn until it is green.
Traffic Signs
Warning Signs - most are Diamond Shaped - Yellow with Black lettering - SLOW DOWN
Railroad Crossing Warning - Round Yellow with X symbol and Black RR - WARNING
Railroad Crossing - Large White X - Railroad Crossing written on it - means YIELD to crossing trains.
Work Area Signs - Diamond Shaped or Rectangular - Orange with Black letters
Save time and money! Shop Online with Peapod in Connecticut