Connecticut Driving Test
Are you taking your Connecticut driving test shortly?
I made a Driving Test outline to make it easier for my teenagers to study. Maybe this information will help you too.
Put these notes into practice immediately, so they will become second nature to you.
You need to read the Connecticut DMV manual for the written test too, because there is some stuff, like the "hand signals," you're going to have to look up.
So go to the DMV near you, pick up an application for a driving test, get a CT manual, fill out the application, choosing your location and time for the driving test, (the earlier, the better) and then mail it with 40 bucks by check or money order, to get an appointment.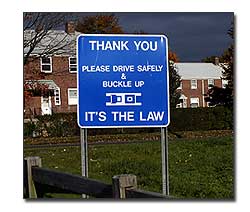 Before going to take the test: Clean out the car and wash it. Make sure everything works. (You'll feel better.)

1. Bring a car (not leased daily) and be familiar with it.(No defective or missing equipment)

2. Set the Parking Brake when you park at the DMV, turn off the radio and lock the car.
3. Take note of what's parked around you, when you come out with your driving inspector to the car for the test. He will check the car for flaws, and will give you your registration and insurance card back.
When you get into the car for the driving test do this:
1. Adjust your seatbelt
2. Adjust the mirrors
3. Make sure the inspector has his seatbelt on!
4. Start the car
5. Release the parking brake.
6. Press the brakes BEFORE shifting out of park
7. Look behind you while backing out

This is what is expected of you while driving.
Follow inspector's instructions
Maintain control of the vehicle.
Bring car up to speed in short amount of time
Maintain a SPACE CUSHION from other vehicles around you.
Be able to apply brakes smoothly

Stop BEHIND the stop signs and/or BEFORE the white line. (Do not let the car roll)

Do not run a yellow light.
Do not let your car roll, after you come to a complete stop
Do not put your vehicle at unnecessary risk.
Do not go past the speed limit.
Avoid talking with the inspector while driving, and don't smoke
Always use your signals for turning and be able to demonstrate HAND SIGNALS
Be ALERT as to what is happening around you - especially with the pedestrians
They expect you to know this
Know - how to maintain a proper speed
Know - what lane you are suppose to drive in, and to turn into from the lane that you're in
Know - when and who to YIELD to, and what to do if they are yielding to you(such as, a four way stop)
Know - when to go through a yellow light and when to stop for a yellow light
Know - how to back out of a parking space safely
Know - how to turn in to a perpendicular parking space from the right or left (such as, a mall parking lot)
Know - how to parallel park on the right or left side of the street, and be able to safely pull out using your turn signals
Know - the proper way to park on a hill. (wheels turned the right way and parking brake set)
Know - how to work the parking brake, wipers and washer, heater and defroster, headlights, highbeams and parking lights, horn, and other instruments. Be familiar with the warning lights.

When you return from the driving test. Don't forget to set the parking brake!

Best of LUCK!
Bring these with you to the DMV
Proof of name and date of birth.
You need a Birth Certificate and 2 other forms of ID.
You need your Registration and current CT Insurance Identification card

You need the Appointment letter and verification of your current address, such as utility bills, mortgage papers or the DMV appointment letter envelope.
You must have a Social Security Number on your application.
Save time and money! Shop Online with Peapod in Connecticut