Cape Cod Mass
Accommodations and Lodging
The important thing to remember, if you are driving to Cape Cod, is to be aware of the traffic jam you're going to run into at the Bourne Bridge.
We even took a picture because we couldn't believe it.
So don't make any wrong turns!
What does Cape Cod have to offer?
You can do everything from deep-sea fishing, to playing a round of golf, on one of the Capes prestigious golf courses.
Visit the historic lighthouses, board a whale watching ship, or take a walk in the Cape Cod National Seashore Park.
There are tons of places to stay in Cape Cod.
Click Here for an Updated List of Hotels
Cape Cod Resorts, Hotels, and Inns
Bass River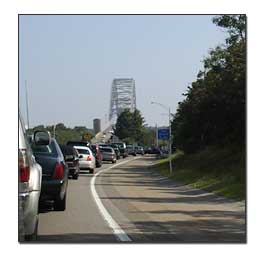 -Riviera Beach Resort - Bass River 327 South Shore Dr Bass River
Bourne
-Best Western Bridge-Bourne Hotel 100 Trowbridge Road Bourne
Brewster
-Oceans Edge - Located on Route 6A Brewster. A Cape Cod luxury resort with vacation packages and hotel specials.
Chatham
-Chatham Bars Inn 297 Shore Road Chatham
-Wequassett Inn Route 28 On Pleasant Bay Chatham
-Queen Anne Inn 70 Queen Anne Road Chatham
Chelsea
-Wyndham Chelsea 201 Everett Avenue Chelsea
Dennis Port
-Club At The Cape Cod (Vri) 177 Lower County Road Dennis Port
-Dennisport Motel 447 Main St Dennis Port Cape Cod
East Orleans
-Ships Knees Inn 186 Beach Road East Orleans
Eastham
-Four Points By Sheraton Eastham Cape Cod Route 6, P.O. Box 398 Eastham
-Captain's Quarters Motel And Conference 1237 Route 6 Eastham
-Ocean Park Inn Route 6 Eastham
Falmouth
-Holiday Inn Falmouth, Ma 291 Jones Rd Falmouth
-Falmouth Inn 824 Main Street (Route 28) Falmouth
Hyannis
-Super 8 Motel- Cape Cod 41 Rte 28 Hyannis
-Days Inn Hyannis 867 Route 132 Hyannis
-Ramada Inn Regency 1127 Route 132 Hyannis
-Comfort Inn Hyannis 1470 SR 132 Hyannis
-Econo Lodge Hyannis 59 East Main St. Hyannis
-Four Points By Sheraton Hyannis Resort 35 Scudder Avenue Hyannis
-Courtyard By Marriott Cape Cod-Hyannis 707 Route 132 Hyannis
-Cape Codder Resort 1225 Iyannaough Road Hyannis
-Radisson Hotel Hyannis 287 IYANNOUGH ROAD Hyannis
-Hyannis Travel Inn 18 North Street Hyannis
-Cape Cod Inn 447IN STREET Hyannis
-Hyannis Harbor 213 Ocean Street Hyannis
-Cape Winds Resort (Vri) 657 W. Main Street Hyannis
Mashpee
-Sea Mist Resort 141 Great Neck Road South Mashpee
North Falmouth
-Sea Crest Resort 350 Quaker Rd North Falmouth
Provincetown
-Best Western Chateau Motor Inn 105 Bradford Street West Provincetown
-Breakwater Motor Inn Route 6A and Snail Road Provincetown
-Crowne Pointe Historic Inn 82 Bradford Street Provincetown
-Surfside Hotel And Suites 543 Commercial Street Provincetown
South Yarmouth
-Best Western Blue Water On The Ocean 291 South Shore Drive South Yarmouth
-Best Western Blue Rock Motor Inn 39 Todd Road South Yarmouth
-Quality Inn & Suites 1314 Route 28 South Yarmouth
West Dennis
-Cape Cod West Dennis Travelodge 99 Main St. West Dennis
West Yarmouth
-Yarmouth Resort 343 Main St Route 28 West Yarmouth
-Cove At Yarmouth (Vri) 183 Main St. West Yarmouth
-Tidewater Inn 135 Main Street Route 28 West Yarmouth
-Howard Johnson Inn Cape Cod Area 149 Main Street (Rt 28) West Yarmouth
Related Cape Cod Pages
-Cape Cod Campgrounds
-Cape Cod Restaurants
-CapeCod Attractions
-Cape Cod Beaches
-Dennisport Motel
-Driving I95 to Cape Cod
-Dennis, Cape Cod
-Museum of Natural History
-West Dennis, Cape Cod
-Martha's Vineyard Ferry and Lodging

Cape Cod Websites
- Cape Rentals
- Massachusetts Beaches
-Craigsville Cottage Rentals
-Dennis Seashore Cottage Rentals
---
Cool Pages

Alpaca Blanket
- This has got to be the warmest, softest blanket I have ever felt, and great for winter travel, especially in New England!

Stop and Shop Peapod in MA
Click here for a promo code and get $10 in FREE groceries
Cooltan Tan Through Shirts and Swimwear
- Get a tan through your clothes! Shirts, shorts, and swimwear. Great for wash and go traveling.
New York City
- Plan now for the Macy's Thanksgiving Parade, and New Year's Eve.
Popular US Hotels
- Make Easy online reservations for anywhere in New England.and the United States
East Coast Beaches
- Plan your vacation this winter on an East Coast Beach.
Visit the Caribbean
- Pack your bags, and take a cruise. The Caribbean is now in season!