Provincetown Motels
Cape Cod
There are tons of motels in Provincetown.
Most are located along the shoreline, or between Commercial Street and the beach.
They are all lined up along the shoreline, right next to each other.
Have fun staying in Provincetown!
Click Here for an Updated Motel List
Best Western Chateau Motor Inn
105 Bradford Street West
Provincetown, MA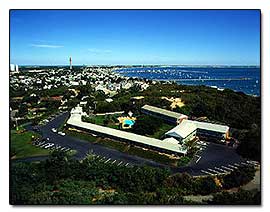 At the Best Western Chateau Motor Inn in Provincetown, the luxury of your spacious room is matched only by their exceptional location.
Newly decorated in classic Cape Cod decor, each room has a large television, and some include a private safe and refrigerator.
Nearby, miles of inviting bay and ocean beaches are bordered by seemingly endless sand dunes, with meandering trails making it all easy to explore on foot or bicycle.
Breakwater Motor Inn
Route 6A and Snail Road
Provincetown, MA
Breakwater Motor Inn
Their private hilltop is also within walking distance of wonderful restaurants, art galleries, and shops. Located on Provincetown's "East End", one mile from the town center and on the summer shuttle route.
The Cape Inn Resort, near the Breakwater Motor Inn, has changed ownership and is now known as The Harbor Hotel Provincetown. Their new website address is Harborhotelptown.com. The Harbor Hotel Provincetown features deluxe water view rooms, while the "BreakWater Motor Inn" has more moderately priced non-view rooms.
Crowne Pointe Historic Inn
82 Bradford Street
Provincetown, MA

Crown Pointe Historic Inn
This elegant 4-Diamond Rated Boutique Hotel and Full Service Spa is in the center of Provincetown. A resort setting offering award winning accommodations and service in an elegant, intimate environment. All rooms with the utmost in amenities, gourmet cuisine and complete with a full service on-site world class spa.
The Inn is regarded as a quiet escape and romantic getaway for most of their guests, and they work hard to foster that environment. Since it is not an appropriate environment for children, no one under the age of 16 is permitted at the Inn at any time. Unfortunately, they cannot make any exceptions.
Surfside Hotel And Suites
543 Commercial Street
Provincetown, MA

The Surfside Hotel and Suites is a newly renovated property located in Provincetown, Cape Cod, MA. They have waterfront rooms with sliding doors opening onto balconies on their private beach overlooking Cape Cod Bay.
Moffett House Inn
296A Commercial Street
Provincetown, MA 02657
Moffett House Inn
Reservations for 2011 at the Moffett House Inn in Provincetown are now being accepted! They only have 10 rooms in the house -- book early to guarantee the dates and rooms that you would like. Room photos with detail are now available on the Moffett House website.
Everyone staying at the Moffett House gets the use of a bike for free. For a complete list of their amenities check out their AMENITIES section on their website. Feel free to contact them by either email or phone if you have any other questions. Your hosts: Russ, Mark & Luciano info@moffetthouse.com 508/487-6615
Related Pages
Provincetown MA
Commercial Street
Pilgrim Tower Pictures
Provincetown Trolley
Provincetown Shopping
Popular Restaurants
Provincetown Beaches
Whydah Pirate Museum
The Tip of Cape Cod
National Seashore
Provincetown Airport
See the very tip of Cape Cod at the Provincetown Inn.
---