Provincetown Trolley
Sightseeing Tour
Here's a couple of pictures of the trolley we saw on Commercial St., as we were heading out of Provincetown.
Must be a lot of fun to ride, I think we will when we go back to Provincetown.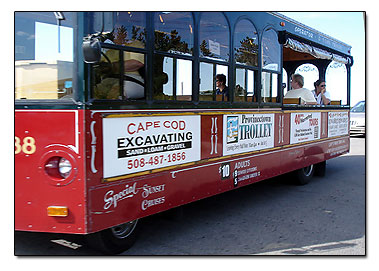 The Provincetown Trolley Sightseeing tours began in 1988. The Tours leave from the Commercial Street Town Hall. The rides last for about 40 minutes. The tour is very picturesque and informative. They tell you all about historical sites and points of interest. They even give you a free map of Provincetown. The rates are very reasonable, and you can pay as you board. Charters are welcome too. (508-487-9483) www.provincetowntrolley.com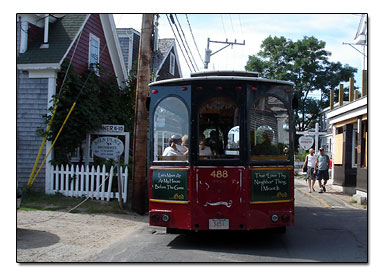 Related Pages
Provincetown MA
Commercial Street
Pilgrim Tower Pictures
Provincetown Trolley
Provincetown Shopping
Popular Restaurants
Provincetown Beaches
Whydah Pirate Museum
The Tip of Cape Cod
National Seashore
Provincetown Airport
Beachfront Motels
---
Cool Pages

Alpaca Blanket
- This has got to be the warmest, softest blanket I have ever felt, and great for winter travel, especially in New England!

Stop and Shop Peapod in MA
Click here for a promo code and get $10 in FREE groceries
Cooltan Tan Through Shirts and Swimwear
- Get a tan through your clothes! Shirts, shorts, and swimwear. Great for wash and go traveling.
New York City
- Plan now for the Macy's Thanksgiving Parade, and New Year's Eve.
Popular US Hotels
- Make Easy online reservations for anywhere in New England.and the United States
East Coast Beaches
- Plan your vacation this winter on an East Coast Beach.
Visit the Caribbean
- Pack your bags, and take a cruise. The Caribbean is now in season!