Popular Restaurants
in Cape Cod MA
These are a few of the restaurants we spotted on our trip to Cape Cod.
Of course there were alot more, but these are the pictures I was able to get from the restaurants near the ferry at Wood's Hole, all the way to Provincetown.
We took Hwy 6a from Provincetown and didn't see many restaurants at all.
John's Capeside Diner
Cookes Seafood Restaurants - We ate here when we went to Cape Cod and would highly recommend it to whoever is going to Mashpee. It is the best fried seafood we have ever ate. The coatings were light and flakey and not thickly coated. Delicious! Directions: Cooke's Restaurant is located on Great Neck Road, a couple blocks north of the intersection of Hwy. 151 and Great Neck Road (North)
Captain Kidd Restaurant
Lighthouse Inn
Seadog Restaurant
Swan River Restaurant
Wooden Shoe
Restaurants near
Martha's Vineyard Ferry
When we turned around and left the Martha's Vineyard ferry dock, we drove down the main street of this little town called Wood's Hole, and took more pictures. Here are some of the restaurants we saw there. Most would be considered shoreline restaurants or seaside restaurants.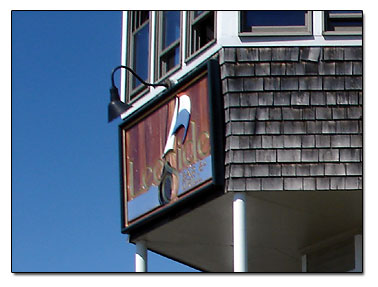 LeeSide Restaurant
Captain Kidd's restaurant
Pie in the Sky Breakfast Bakery cafe
Landfall restaurant
Fish Mongers
Shuckers restaurant
Woods Hole Inn
Directions to Martha's Vineyard Ferry
Provincetown Restaurants
Bubala's
Patio American Grill and Blue Bar 328 Commercial Street Provincetown, MA 02657 Tel. 508-487-4003
Tip amd Tops'N
Surf Restaurant
Surf Club Raw Bar
Sagamore Inn Restaurant
More Cape Cod Restaurants
Cape Cod Central Railroad - 252 Main Street Hyannis (888-797-7245) Cape Cod's only 46 mile long restaurant, where every table is a window seat. Elegant dinner train, family supper train, luncheon or Sunday brunch. www.capecodtrain.com
Marathon Seafood Restaurant - 231 Route 28 West Dennis - Family owned for 21 years. (508-394-3379 see menu
Chauncy's Bar and Grille - 259 Main Street, Hyannis - Exceptional food, relaxed atmosphere, great value. see flyer
Salty's - 50 Main Street, Route 28, West Yarmouth, MA - (508-790-4330) Open April to October see flyer www.saltys-capecod.com
Pate's Lobster Restaurant - Rout 28 Chatham (945-9777) Fine dining, cocktails, open hearth grill. Baked lobster, fresh fish, slow roasted prime rib. view flyer
---