Child Traveling Tips
There are several different ways to travel on a vacation, and different tips are needed for the different age groups of your children. Here are some basic travel tips to help you while traveling.
Child Travel Tips by Car
If you are traveling by car, it would depend on how far you are going and and how long you are going to be staying.
Such as, if you are coming from Indiana to the New England States, it's approximately 22 hr. on the road.
That means you will either need two drivers or a stopover at a motel.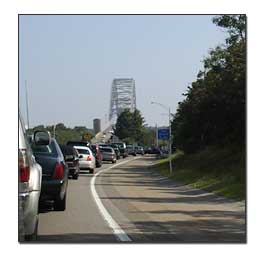 When children travel they become bored really easy, and that's understandable, the Interstates are not too visually stimulating. We're always hearing, "Are we there yet?" So, you're going to have to come up with some creative ideas to keep them busy, and "Sing-A-Long" songs just doesn't seem cut it anymore.
Start thinking of ideas and making a list long before you leave on vacation. Every time you get an idea, jot it down. The best thing to do is to ask the kids what will keep them busy. Some cars come equipped with VCR's but, believe me, they are going to get tired of watching movies.
Stop every couple of hours at a Rest Stop so they can stretch their legs and go to a bathroom. Try to stay away from the tourist trap truck stops, or it will take you forever to get out of there. Have the kids make a vacation scrapbook
TIP: Hang a shoebag over the back of the front seat to hold all your kids small toys or traveling items, like wetwipes, etc.
Child Travel Tips for Airplanes
When you traveling with a child on an airplane, it seems to be much easier, except for the initial "check-in and wait for the plane" syndrome.
For instance, if you're taking a flight to Russia, then it's a 9 hr trip, and the kids will get bored and keeping them in their seats is a challenge. Most airlines have ways of keeping children busy, but you can set your kids up with their very own backpack full of goodies.
I took my kids to the discount store and just told them to pick out some snacks and drinks and things to do for the plane trip. They enjoyed doing that, and then there wasn't any complaints about having yucky mom picked stuff. Most children, when traveling feel better if they have a familiar item with them like a toy, stuffed animal or blanket.
More Travel Tips
Safe luggage
Keep a self addressed letter inside of your luggage in case your luggage tag comes off
Bring 2 watches on your vacation, or a watch and a small clock. One with your vacation time, one with the time back home.
To prevent your clothes in your luggage from smelling musty, save your "too small" soap bars, place in a mesh bag, and put inside your suitcase. Or put several fabric softener sheets in with your clothes.
When staying in a hotel, if you leave the room, hang the "Do Not Disturb" sign on the knob, to discourage theives.
If you are staying at a hotel, grab a couple of their matchbooks, in case you need to find your way back to the hotel. Show the matchbook to a local resident to get directions.
If you have noisy neighbors in the next hotel room, roll a towel and place by the front door or adjoining door.
Before you leave on vacation, write your friends and relatives names and addresses on self adhesive labels, then when you find that fantastic postcard, you won't have to spend time looking for there address. Also take postal stamps with you, then you won't have to spend time looking for postage stamps.
To stop pickpockets. Fold your wallet over your pocket comb and insert your wallet back in your pocket with the comb facing upwards. No one will be able to remove the wallet from your pocket without having to turn it at a 45 degree angle. Or you can invest in a moneybelt.
If you plan on being out in the hot sun for a long while, wear a straw hat with a damp cloth underneath it.
---