Provincetown Restaurants
Cape Cod Massachusetts
There are a lot of restaurants in Ptown.
Most located in small, scenic and romantic locations.
Many serve our favorite seafood, and have raw bars, like oysters and steamed mussels etc. Yum Yum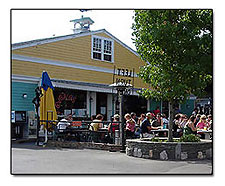 But there are even great pizza restaurants, and places where you can go for breakfast. For instance we ate breakfast at Tip and Tops'N. A small little restaurant, and we didn't need reservations either.
Popular Provincetown Restaurants
Bubala's - 185 Commercial St. (508-487-0773) Outdoor Patio. Serving breakfast, lunch and dinner. 8am to 1am
Ciro and Sals - Premiere Northern Italian restaurant. Awesome wines. Veal, seafood, pasta.
Edwige at Night Restaurant - 333 Commercial St. (508-487-4020) Local favorite. American contemporary cuisine. June thru Sept - 6pm till close
Enzo Restaurant - 186 Commercial St. (508-487-7555) The hippest new hotspot in Provincetown. Bar, Italian cuisine.
Fanizzi's by the Sea - 539 Commercial St. (508-487-1964) Bayview and great sunset views.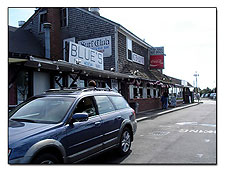 Opens at 11:30am daily. Serves lunch and dinner. A variety of delicious seafood. Sunday Brunch
Govenor Bradford Restaurant - 312 Commercial St. (508-487-2781) Sandwiches and clambakes all day long. Game room downstairs.
Landmark Restaurant - 269 Commercial St. (508-487-6500) Dining on the waterfront. Piano lounge. Steaks, seafood, pasta for the casual gourmet. Full bar
The Lobster Pot - 321 Commercial Street, Provincetown, MA 02657 (508-487-0842) A provincetown tradition On the waterfront
Mojos Fast Food - 5 Ryder St. (508-487-3140) - Fresh cut french fries, burritos, batter fried mushrooms, fish, clams, scallops, shrimp, burgers, veggie burgers,chicken tenders, cheese steaks, subs, onion chunks, tacos, chili, vegetarian sandwiches. Eat on the patio or take it away. Mojos is located off the main parking lot in Provincetown.
Napi's Restaurant - 7 Freeman St. (508-487-1145) Provincetown's most unusual restaurant. You need reservations.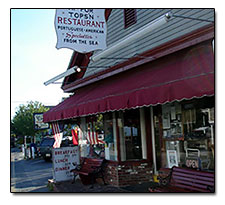 Tip and Tops'N - breakfast, lunch and dinner. Specialties from the Sea.
Tofu A GoGo - 336 Commercial St. (508-487-6237) Upper deck. All vegetarian. Call for off season hours.
Patio American Grill and Blue Bar 328 Commercial Street Provincetown, MA 02657 Tel. 508-487-4003
Provincetown House of Pizza - (508-487-6655) - 50 Bradford St. Corner of Shank Painter Rd. Voted Best Pizzaria in Provincetown. Pizza, Calzones, Hoagies,chicken fingers, buffalo wings, homemade lazagna, fresh salads, sirloin steak tips, appetizers, Atkins friendly. Eat in or Take out.
Spiritus Pizza - 190 Commercial St. (508-487-2808) Coffee Bar, Soda Fountain, Haagendazs, Continental Breakfast. Delivers!

Surf Club Raw Bar - right next to the pier on the corner of Commercial St.
Waydowntown - 265 Commercial St. (508-487-8800) Waterfront dining Full menu, breakfast lunch and dinner.
Whaler Restaurant and Lounge - 698 Commercial St. (508-487-1711) Full dinners, light fare, pizza. Free movies.
Related Pages
Provincetown MA
Commercial Street
Pilgrim Tower Pictures
Provincetown Trolley
Provincetown Shopping
Popular Restaurants
Provincetown Beaches
Whydah Pirate Museum
The Tip of Cape Cod
National Seashore
Provincetown Airport
Beachfront Motels
---