Charlestown Breachway RI
Charlestown, Rhode Island
We arrived at Charlestown Breachway as the sun was setting, and was able to get some really nice pictures.
There were several people fishing on the jetty, and a couple taking a stroll on the beach.
The first picture is of the beach area.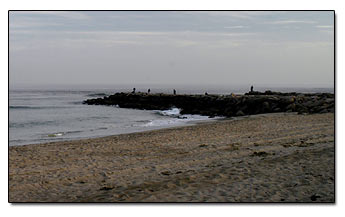 There is lots of yellow deep sand, but the incline to the beach is rather steep. I don't think people swim here. The waves are always crashing the shore.
There is a boat launch area and most people just go fishing and camping here. We see lots of RV's every summer. The best place to fish is from the jetty you see in the picture.
If you don't want to do RV camping at the Breachway, you can stay at Burlingame Campground or view pictures and information of some of the Charlestown motels
---
Cool Stuff
Stop and Shop Rhode Island Peapod - Smart Shoppers in RI grocery shop online with Peapod. Don't forget to enter the promotional code CJA2 if you are a first time customer.
Cooltan Tan Through Shirts and Swimwear - Get a tan through your clothes in Rhode Island! Shirts, shorts, and swimwear. Great for "wash and go" traveling, golfing, or beachwear.
Alpaca Blanket - This has got to be the warmest, softest blanket I have ever felt, and great for winter travel, especially in New England!
New York City - Plan now for the Macy's Thanksgiving Parade, and New Year's Eve.
Popular US Hotels - Make Easy online reservations for anywhere in New England.and the United States
East Coast Beaches - Plan your vacation this winter on an East Coast Beach.
Visit the Caribbean - Pack your bags, and take a cruise. The Caribbean is now in season!