Nordic Lodge Lobster Buffet
RI Seafood Restaurant
The Nordic Lodge is an All You Can Eat Lobster Restaurant located in a secluded country setting in Charlestown, RI.
We were told that at one time it was in Newport, but moved to this fabulous spot in the country.
It is famous for it's
All You Can Eat
Lobster buffet. Yes!
We couldn't wait to visit the Nordic Lodge, and here's what happens.
You follow a winding road to the restaurant, and be sure to watch out for the Trolls in the trees, they'll try to distract you. Here's a view of the restaurant as you enter
Park your car, and they'll come to pick you up in a golf cart. Go inside, and they'll ask how many is in your party, and give you a pager. You take the pager outside, stroll the grounds, and take in the scenic view of the lake, very romantic.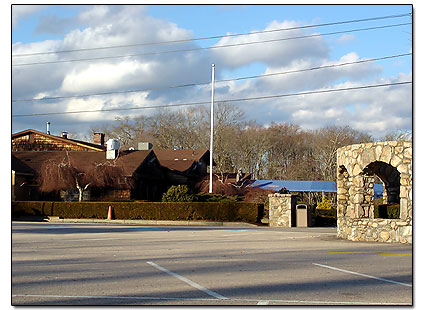 Then, when your table is ready, your pager buzzes, and you go back to the restaurant. They seat you, and you head for the buffet. Get a couple lobsters first! They also have other types of seafood too and steaks, and their dessert bar is incredible.
They limit you to a 2 hr. dining experience, which is understandable, but that is plenty of time. We have found that Sundays seem to be the best time to go, because it's not as crowded. The Nordic Lodge Restaurant is located at 178 E Passquisett Trail. Don't forget 70 bucks for the meal.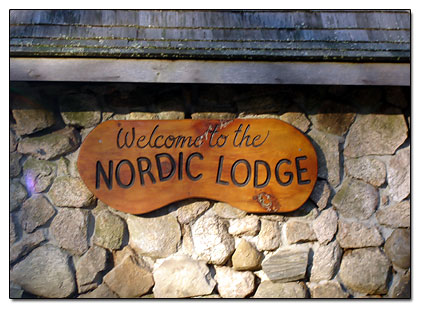 More pictures of the Nordic Lodge
-In the middle of the driveway is a rotunda? that resembles the Nordic structure located in Newport. When you drive around it, you get a view of the lake.
-As we were leaving, I took a picture of the pond. This is where people stroll or sit and chat to wait for a table.
-Usually the place is packed, but today, we saw a sign out that they are closed for the winter.
-And... we just happened to catch a troll as we were leaving. You have to be on the lookout for these little trolls. They see you coming and try to distract you as you enter and leave the grounds.
Also see Custy's Lobster buffet in North Stonington CT
The Nordic Lodge will be closing on 12/15/07 for the winter and will likely reopen the last Friday in April 2008 althought hte date is not firm yet. See their full buffet menu. The phone number is 401-783-4515, but they only take reservations for parties of 20 or more.
Driving Directions:
Exit 3a from I-95 - (University of Rhode Island, Newport Bridge exit, Hwy 138) Follow 138 south till you reach a Y in the road and stay to the right. This is Hwy. 2. Follow Hwy 2 south, you will come to a split from Hwy 112, but keep going south on Hwy 2 about a block or so, and make a left on Passquisett Trail. (I don't think there is a sign for the street, but there is a sign for the Nordic Lodge) Location map
Need a place to stay? Check out the Charlestown RI motels
---
Cool Stuff
Stop and Shop Rhode Island Peapod - Smart Shoppers in RI grocery shop online with Peapod. Don't forget to enter the promotional code CJA2 if you are a first time customer.
Cooltan Tan Through Shirts and Swimwear - Get a tan through your clothes in Rhode Island! Shirts, shorts, and swimwear. Great for "wash and go" traveling, golfing, or beachwear.
Alpaca Blanket - This has got to be the warmest, softest blanket I have ever felt, and great for winter travel, especially in New England!
New York City - Plan now for the Macy's Thanksgiving Parade, and New Year's Eve.
Popular US Hotels - Make Easy online reservations for anywhere in New England.and the United States
East Coast Beaches - Plan your vacation this winter on an East Coast Beach.
Visit the Caribbean - Pack your bags, and take a cruise. The Caribbean is now in season!