Newport Tourism
Attractions in Newport, RI
A vacation in Newport can be so much more than just sitting on a Newport beach.
It would take at least a week or more for you to take in the splendor and beauty of this historic town.
One day you can stroll down beautiful Belmont Avenue lined with all the famous Newport mansions like the Astor's, and the Belmont's, etc.
The next day you can visit historic places like the Fort Adams State Park or Purgatory Chasm.
Thames Street is one of the most popular streets in downtown Newport RI, running parallel with the Newport harbor. It features all kinds of small shops, mostly souvenir shops, and small cafes and restaurants. Everyday is a shopping adventure.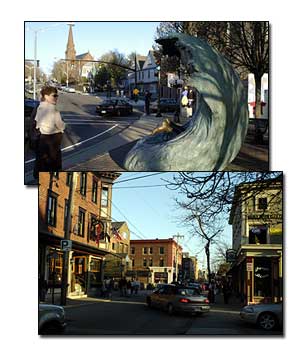 There is a sculpture that sits at the main entrance to Thames Street. It was sculpted by Kay Worden in 1983. It features two feet protruding from a big ocean wave. We walked around to the back to see if the rest of the body was there, but it wasn't.
An old sea captain sitting on a bench nearby, noticed our actions, and told us 1983 was the year we lost the World Cup, and there is a similar sculpture in Australia that has the rest of the body attached.
The buildings that line Thames Street have endured time, most being built in the 1700's and 1800's.
Newport Tourist Attractions:
Other tourist attractions in Newport include the historical
Old Stone Mill on Mill St
Trinity Church on Spring St. (401) 846-0660
The Wanton-Lyman Hazard House at 17 Broadway (401) 846-0813
Bowens Wharf (401) 849-2243
Hunter House at 54 Washington St. (401) 847-1000
The International Tennis Hall of Fame 194 Bellevue Ave. Newport, RI 02840 (401) 849-3990
Quest Deep Sea Fishing - (401) 339-8035 Available for music festivals & mansion tours.
---