Popular Restaurants in Narragansett, RI
The favorite snack shop with the locals is called the Starboard Galley, and has fried clams and other seafood options.
It's located south of the town beach, past the Narragansett twin towers, go about 3 blocks, and it's sitting on the left by the waters edge, a real small building.
Their sign says they have The Best Chowda in Narragansett. You eat outside at a picnic table. See a large picture.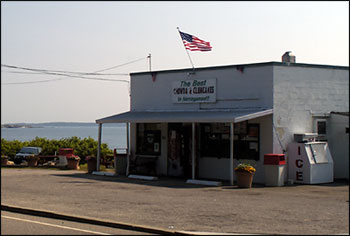 Here's what we do though, inside that big area where the condos are, (see directions below) we found a small hidden grocery store, it's called the Pier Market. We just go there to get our food, ice, drinks and snacks.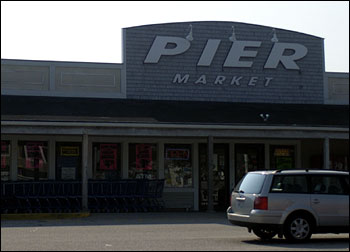 If you drive straight through the parking lot, inside the area where the condos are, are several small shops, such as the 4 Seasons Decor, Krystal Shoes, Whale Rock Deli, the Narragansett Theater, Granitos, Analfi Mediterranean Restaurant, Village Inn, Basil's Restaurant and Lounge Sandwich Shop. Also see Narragansett Motels
Popular Narragansett Restaurants:
Spain's Narragansett
Spain's Narragansett is at 1144 Ocean Rd., Narragansett, RI 02882, 401-783-9770 This is a very popular restaurant and is considered romantic, but it is busy all the time.
Coast Guard House
The Coast Guard House is a very popular and romantic restaurant too, sitting right on Narragansett Bay next to the Twin Towers. Coast Guard House, 40 Ocean Road, Narragansett, RI 02882 Tel. 1-401-789-0700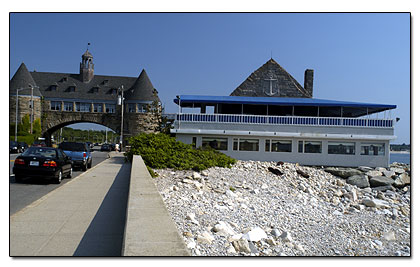 FairWinds Restaurant American Restaurant
126 Boon Street, Narragansett, RI, 02882 (401) 783-4445
Narragansett's best kept secret.
Related Pages
-See pictures of Narragansett Bay
-Get a motel at Narragansett Bay Inns
-Also see the nearby Galilee Pier and the Block Island ferry
-View pictures of Narragansett Beach
-See some more New England lighthouses
-What's at the RI Interstate 95 Exits or RI Route 1 Exits?
-Here's more Romantic Restaurants in Rhode Island
-See our video of a drive through Narragansett
---
These pages are based on our own travels to Rhode Island.
Therefore, the information on hotels, restaurants, things to do, will probably change.