Middletown Rhode Island Restaurants

When you go to Middletown RI to dine, you're in for a real treat.
Several restaurants are listed below which are our favorites.
Atlantic Grille Diner
Here's a popular diner along the strip in Middletown.
If we go to Newport early in the morning we stop here at the Atlantic
Grille because they serve only for breakfast and lunch, and have a fantastic breakfast menu.
Several menu items are named First beach, Second, or Third beach. It's really cool, and so good.
This is one place we look forward to going to, but it's not a big restaurant, so you have to get there early.
Flo's Clam Shack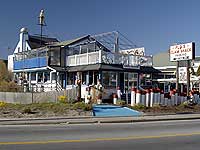 Flo's Clam Shack is a good place to get some seafood. They have been famous for their clams since 1930.
We got the Fisherman's Platter, and sat outside at the picnic tables to enjoy the view and all the excitement. They also have a bar upstairs.
You order outside on the side of the building, and then go inside to pick up your order. Lots of fun, but can get pretty busy during the summer.
Their sign says, Thurs. thru Sun. Specials, Fish and Chips $5.25, Scallop pl $6.95, and Chowda Combo $3.95
KJ's Pub and Restaurant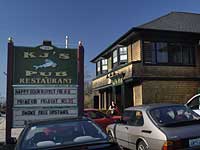 KJ's Pub and Restaurant is located on the Middletown strip, but we haven't eaten there yet. It looks like a romantic place to dine though.
Their sign says, Happy Hour Buffet, Fri. 4 to 6, Prime Rib Fri. & Sat. $15.95, Smoke Free Upstairs

Driving Directions:
If you are traveling I-95 in Rhode Island, view our information of what's at the Interstate 95 Exits. View Newport area map
---
Cool Stuff
Stop and Shop Rhode Island Peapod - Smart Shoppers in RI grocery shop online with Peapod. Don't forget to enter the promotional code CJA2 if you are a first time customer.
Cooltan Tan Through Shirts and Swimwear - Get a tan through your clothes in Rhode Island! Shirts, shorts, and swimwear. Great for "wash and go" traveling, golfing, or beachwear.
Alpaca Blanket - This has got to be the warmest, softest blanket I have ever felt, and great for winter travel, especially in New England!
New York City - Plan now for the Macy's Thanksgiving Parade, and New Year's Eve.
Popular US Hotels - Make Easy online reservations for anywhere in New England.and the United States
East Coast Beaches - Plan your vacation this winter on an East Coast Beach.
Visit the Caribbean - Pack your bags, and take a cruise. The Caribbean is now in season!