Colt State Park
Bristol Rhode Island
Next to Bristol Town Beach is Colt State Park.
Colt State Park doesn't have a beach there, but the picnic grounds are large, it's easy to fly a kite, and there's a boat launch too.
You can actually walk from Bristol Town Beach to Colt State Park by the way of a small plot of woods. This is a nice area to visit and relax.
Be sure to take a drive through the historical scenic grounds. The last time we were there a couple was getting married. The entire western border of the park is an open to Narragansett Bay and very scenic. Colt State Park is open all year round.
"There are four miles of bicycle trails that pass along the Bay and go through acres of groomed fruit trees, flowering bushes, and beautiful manicured lawns. There are ten large fields to play, and six picnic groves containing at least 200 picnic tables."
Colt State Park hosts activities like picnicking, hiking, jogging, saltwater fishing, boating, bicycling, snowmobiling and naturalist programs. In the past, concerts were a favorite summer pastime drawing attendance to the spacious lawns for sunset events overlooking Narragansett Bay.
There is no charge to enter any Rhode Island State Parks, except the beaches.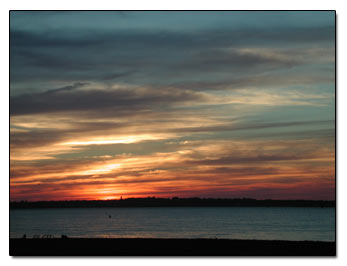 Driving Directions
From north or south, Hwy. 114 to Asylum Rd The entrance is not hard to miss. They have two sculpted bulls on pedestals at the entrance.
Other Attractions in Bristol
Coggeshall Farm Museum - Poppasquash Rd Bristol, RI 02809 (401) 253-9062
Herreshoff Marine Museum - 1 Burnside St Bristol, RI 02809 (401) 253-5000
Wilson Gallery of Fine Art - 251 Thames St Bristol, Town Of, RI 02809 (401) 254-0606
Bristol Harbor Inn is located at 259 Thames Street Bristol, RI 02809
"40 Guest Rooms And Suites Overlooking Beautiful Bristol Harbor And Narragansett Bay In The Heart Of Historic Bristol, Rhode Island. Day Spa, Beauty Salon, Bike And Kayak Rental, Retail Stores, Waterside Events Deck, Boat Dock, Meeting And Conference Rooms. Rich Maritime History, Yachting, Quintessential New England Coastal Village. Walking Distance To A Variety Of Top Restaurants, Museums And Shopping. Day Trips To Newport, Cape Cod Providence And Boston. Continental Breakfast."
Also see the list of nearby
RI lighthouses
You can also drive to
Cresent Park in Riverside RI
and ride the old 1900's Looff Carousel.
Newport RI
is also not far away.
---
These pages are based on our own travels to Rhode Island.
Therefore, the information on hotels, restaurants, things to do, will probably change.