Hotels in Newport, RI
Accommodations and Lodging
There are lots of places to stay in Newport.
Below are listed some of the popular Newport Hotels.
The Inn on the Harbor
It is located right on the water in Downtown Newport and Newport Harbor and Bridge.
You can see it clearly because it is the tallest building there.
It features a restaurant and pub, fitness center, sauna, and whirlpool on site and parking is free.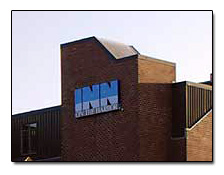 All rooms have air-conditioning, cable TV, coffeemakers, and hairdryers. Rates vary from $75 to $250.
The Rose Island Lighthouse
How about staying in a lighthouse? There is a lovingly restored, turn-of-the-century lighthouse on Rose Island in Newport Harbor in Narragansett Bay, Rhode Island, welcomes nightly guests in two first floor bedrooms and weekly guests in modern second floor keeper's apartment.
Reasonable rates, and rental of keeper's apartment includes an hour's worth of daily record-keeping and maintenance chores.
Linens provided and children welcome, but no pets or smoking allowed. Bring your own picnic or barbecue dinner and breakfast for the following morning.
Open all year. Brochure available upon request. Charlotte Johnson, Executive Director Rose Island Lighthouse Foundation, PO Box 1419 Newport, RI 02840-1419.
More Newport Hotels
Newport Hotels RI - Click here to see these hotels
-Hotel Viking One Bellevue Avenue
-Hyatt Regency Newport 1 Goat Island
-Marriott Newport 25 Americas Cup Avenue
-Best Western The Mainstay Inn 151 Admiral Kalbfus Road
-America's Cup Inn Corner Of Thames And Mary Streets
-Newport Harbor Hotel And Marina 49 America's Cup Avenue
-Beech Tree Inn and Cottage 34 Rhode Island Ave
-La Farge Perry House 24 Kay Street
-The Chanler at Cliffwalk 117 Memorial Boulevard
-Harborside Inn Christies Landing
-Jailhouse Inn 13 Marlborough Street
-Yankee Peddler Inn 113 Touro Street
-Castle Hill Inn & Resort 590 Ocean Avenue
-Pineapple Inn 372 Coddington Hwy
-Newport Bay Club and Hotel 337 Thames Street
-The Chanler at Cliff Walk 117 Memorial Blvd
-Days Inn Rhode Island 425 East Main Road
-Bayberry Inn Of Newport 20 Kay Street
-Mill Street Inn 75 Mill Street Newport, RI
Other Newport, RI Accommodations
-Admiral's Inns

-Admiral Farragut Inn
-Ailinas Bed and Breakfast
-Anna's Victorian Connection
-Belle Reve Inn Newport
-Bellevue House Newport
-Bethshan Bed and Breakfast
-Bliss Cottage Newport
-Clover Hill Guest House
-Corner House B and B
-Elm Street Inn Newport
-Hampton Inn and Suites
-Howard Johnsons
-Inn at Old Beach
-Inn on Bellevue
-Inn On Long Wharf
-Inn On The Harbor
-Jenkins Guest House
-Motel 6 Newport
-Mount Vernon Inn
-Nautical Nook Newport
-Newport Bay Club & Hotel
-On The Point Bed & Breakfast
-Rhode Island House
-Seaview Inn
-Stella Maris Inn
-Thames Street Guest House
-The Belmont
-The Briar Patch
-The Burbank Rose
-The Hammett House Inn
-Victorian Angel
-Wayside Newport
-William Fludder House
-Windamar Newport
---
Cool Stuff
Stop and Shop Rhode Island Peapod - Smart Shoppers in RI grocery shop online with Peapod. Don't forget to enter the promotional code CJA2 if you are a first time customer.
Cooltan Tan Through Shirts and Swimwear - Get a tan through your clothes in Rhode Island! Shirts, shorts, and swimwear. Great for "wash and go" traveling, golfing, or beachwear.
Alpaca Blanket - This has got to be the warmest, softest blanket I have ever felt, and great for winter travel, especially in New England!
New York City - Plan now for the Macy's Thanksgiving Parade, and New Year's Eve.
Popular US Hotels - Make Easy online reservations for anywhere in New England.and the United States
East Coast Beaches - Plan your vacation this winter on an East Coast Beach.
Visit the Caribbean - Pack your bags, and take a cruise. The Caribbean is now in season!