Custy's All You Can Eat
Lobster Buffet
CT Restaurant
Mystic CT Visit historical old Mystic for a great weekend getaway. Take the Mystic River cruise.

Connecticut Camping
Lots of campgrounds to choose from. Have fun!

Connecticut Hotels Grab a reservation here. Easy and secure interface.

CT Lighthouses
View the different types and where they are located.

Cooltan Clothes Get a tan through your clothes. Great for vacations, golfing, and other outdoor sports
Travel Scrapbook Make a scrapbook while you travel on vacation.
I had never heard of Custy's Buffet before. I didn't even know there was an "all you can eat lobster buffet in CT." We found out about Custy's Lobster Buffet when we went to Mystic Seaport. Their address was listed on the bottom of the Mystic Seaport map.
We didn't even know Connecticut had a lobster all you can eat buffet, so we were delighted. Unfortunately Custy's was closed that day because it was July 4th, and didn't reopen till the 7th. Here's their sign.
We decided that this was one place we had to visit before the relatives went back to Indiana. So we picked Friday to go to Gillette Castle, then swing by Foxwoods to play, then go to the Lobster buffet. It turned out to be a great plan!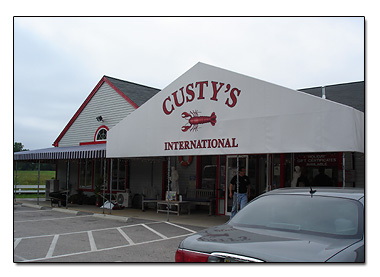 We showed up at Custy's at exactly 5 oclock, when they open. The neat thing about Custy's restaurant is that only half of the restaurant is a buffet, the other half of the restaurant, is a sit down and order, a la carte menu. Yes, that's me grabbing my 3rd lobster. :)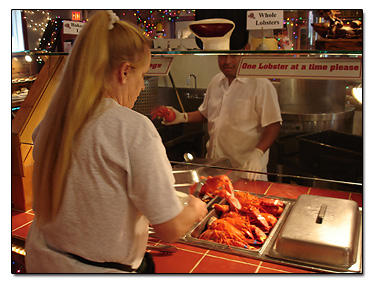 More Pictures of Custy's Buffet
When we entered Custy's buffet at exactly 5 o'clock, when they opened, we didn't know that the restaurant is split in two. If you go left, you go to the buffet. If you go right, you sit at a dining table and order by menu. We had already had our heart (and stomachs) set on the buffet. Ooo-la-la... Custy's Lobster Buffet a view inside.
- Here I am at the Lobster Buffet Table trying to make up my mind what to get. Hmmm... Lobster? Crab Legs? or Stuffed Lobster Tail?... Lobster Buffet Table
- Well, it makes my mouth water just looking at this picture! The shrimp were huge! I could only eat four... Custy's Shrimp Bar
- Oh my gosh. Well this is the Custy's Chocolate Bar. Everything was chocolate dipped here. Except the fruit on top of course. I tried the chocolate covered strawberries, pinapple, and bananas. They were All Great!... Custy's Chocolate Bar
- Here's a picture of the Custy's Cookie Bar. They all look so good, but gee, I was already tooooo full... Custy's Cookie Bar
- I don't think we need to ask Uncle Bob what he thought about Custy's Lobster Buffet... Happy Uncle Bob
PS Secret to eating more at buffets. When you go get your first plate, also grab some chunks of fresh pinapple. After you finish eating your first plate, eat a chunk of fresh pinapple, and do that after each plate
Directions to Custy's Lobster Restaurant
Hwy 2 - Exit 92 off of Interstate 95, head north, and you'll see it on the right in a couple of miles.
Custy's reservations Phone 860-599-1551
Cool Lobster Websites
Cooking Live Lobster - Lobsterhelp.com features a comprehensive guide of how to cook lobster.
Also see the Nordic Lodge Lobster Buffet in Charlestown RI.
Motels Nearby
Stay at a hotel nearby in North Stonington
---