Sage American Oyster Bar
New Haven CT Restaurant
Mystic CT Visit historical old Mystic for a great weekend getaway. Take the Mystic River cruise.

Connecticut Camping
Lots of campgrounds to choose from. Have fun!

Connecticut Hotels Grab a reservation here. Easy and secure interface.

CT Lighthouses
View the different types and where they are located.

Cooltan Clothes Get a tan through your clothes. Great for vacations, golfing, and other outdoor sports
Travel Scrapbook Make a scrapbook while you travel on vacation.
When our relatives came to Connecticut, they had already decided on where they want to eat supper.
They had picked the American Sage Bar and Grill on the shoreline near downtown New Haven.
I had never heard of this restaurant before, but we found it easily because somewhere she got some Connecticut brochures.
We called and made reservations because it was July 3rd.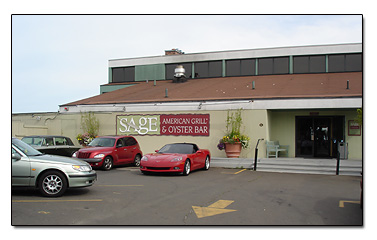 On either side of the restaurant their are docks with sailboats and it is very scenic, but we were in for a surprise when we went inside, because there was also an outside deck and a balcony. Plus, they had a live band that was singing some "Bob Marley" tunes. It was great! I never had such a good time. Here is a great picture of the oysters we were served from the Oyster bar.
This bottom picture is of the fantastic view you get when eating on the outside balcony at Sage Bar and grill. This scenic view is towards Lighthouse Point, which is where we went after we ate at the Sage Bar and Grill.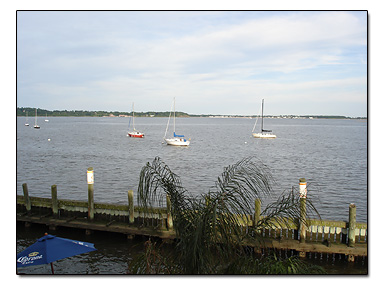 Driving Directions:
New Haven Sage Bar and Grill is located at 100 S Water St New Haven, CT 06519 (203) 787-3466
On CT Interstate 95 heading east, take exit 44, at the end of the ramp you'll be on Hwy 122. Make a right and go to Ella T Grasso Blvd. and turn right. Follow it all the way down to the Y in the road and go left at the Y. The next street should be Harbor Close. Make a right and follow it around and you'll see the restaurant on the right. Go slow so you can take in all the scenic and historical buildings and views.
Stay at a hotel in New Haven CT
---