What's Inside Mohegan Sun?
Connecticut Attractions
Are you just a little bit curious as to what's inside Mohegan Sun?
Well, you are in luck! We have a few pictures.
We didn't know it was okay to take pictures inside of Mohegan Sun, until we were about ready to leave.
Then we saw other people taking pictures, and asked if it was okay. They said yes, but absolutely NO VIDEO cameras.
So, this first picture is in the Mohegan Sun bar area by the waterfall. It looks so cool, and you can sit there and sip your drinks, to the sound of rippling water.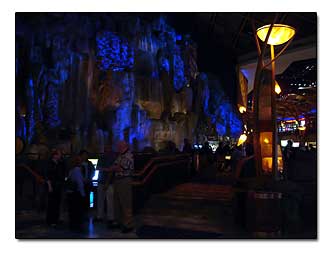 The second picture is of a huge glass sculpture that everyone that passes tosses their coins at for Good Luck. The bottom of the sculpture has a pond, and is full of all kinds of change.
When they toss the coins at the sculpture the coins make a tinkling sound all the way down. I hope someday you'll be able to visit Mohegan Sun. It's worth the trip!
Also see the shopping in Mohegan Sun, directions to Mohegan Sun, and Foxwoods.
Entertainment and Nightlife at Mohegan Sun
Mohegan Sun Arena
The Cabaret Theatre
Wolf Den
Ultra 88 Night Club
Leffingwells Martini Bar
Bow and Arrow
Taughannick Falls Bar
Lucky's Lounge
Star Bar
The Cove
The Dubliner
Cabaret Bar
The Brew Pub
---
Cool Stuff
See a list of
hotels and motels in CT with Jacuzzis and Fireplaces
Cooltan Tan Through Shirts and Swimwear
- Get a tan through your clothes! Shirts, shorts, and swimwear. Great for wash and go traveling.
Alpaca Blanket
- This has got to be the warmest, softest blanket I have ever felt, and great for winter travel, especially in New England!
Child Travel Tips
- How to keep the kids busy while traveling.
Travel Scrapbook
- Make a scrapbook while on vaction.
Connecticut Peapod
- Save time and money, grocery shop online in Connecticut. Peapod delivers groceries right to your door at the time that you select.
Stop and Shop CT Peapod
- Get $10 in FREE groceries in CT. Order anytime, day or night 24/7.