Connecticut Interstate
I 95 Exits Information
The major Interstate Highway in Southern Connecticut is I-95.
It used to be called the Connecticut Turnpike, and they even had toll booths.
They stopped using the tolls after a major accident years ago.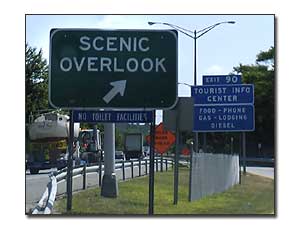 When we travel to the beaches we normally use I 95, but there are certain times during the day that it has heavy traffic.
We get on Interstate 95 at the Merritt Parkway Extension, but recently we made a trip to Greenwich Beach, so the information starts at Exit 9. Print this page and take it with you for an easy reference, and don't forget to wear your seat belts.
Exit # - What on CT Interstate 95
9 - Hwy 1; Hwy 106; Glenbrook
exit 9
10 - Noroton; DARIEN; Railroad station, Metro North, Noroton Heights
exit 10
11 - DARIEN; Railroad station, Metro North; Hwy 1
metro north
,
exit 11
12 - DARIEN; Hwy 136; Tokeneke Rd., Rowayton
exit 12
Military Order of the Purple Heart Bridge
McDonald's; Mobile Station, Connecticut Welcome Center, Service Area
exit McDonalds
13 - NORWALK; Hwy 1, Post Rd.
14 - SOUTH NORWALK;
exit 14
15 - Norwalk; Danbury; Hwy 7
exit 15
16 - East Norwalk; RR Station, Metro North
17 - RR Station, metro north; WESTPORT; Hwy 33, Hwy 136, Saugatuck
exit 17
18 - Park and Ride
park and ride
, RR Station, metro north, Greens Farms,
Sherwood Island State Park
,
exit 18
McDonald's; Mobile Station, Burger King, Subway
19 - Center St. SOUTHPORT
20 - FAIRFIELD; exit for
Fairfield Beaches
21 - Mill Plain Rd.
McDonald's, Mobil Station, Service Area exit 22
22 - Hwy 135; N. Benson Rd; Hwy 1 Post Rd,
23 - King's Highway, Exit for Fairfield Inn
24 - Black Rock Turnpike
25 - Commerce Drive, State St.
26 -
Captain's Cove
, Wordin Ave. Exit for
Bridgeport beach
Bridgeport Lighthouse
27 - BRIDGEPORT; downtown, Bridgeport-Port Jefferson ferry access
28 - BRIDGEPORT; Stratford Ave., East Main St.
29 - Stratford Ave., Beardsley St
30 -
STRATFORD
; Lordship Boulevard
31 - STRATFORD; Honeyspot Rd,
32 - STRATFORD; East Main exit for
Stratford beaches
33 -
Harborside Restaurant
34 -
Devon Motel Milford
,
Gourmet Buffet
35 -
Red Roof Inn
, Springhill Suites, a Marriott Hotel
36 -
Hampton Inn Milford
38 -
Merritt Parkway Extension
39a - Route 1 South,
MILFORD
39b - Route 1 North,
MILFORD Boston Post Rd
40 - Old Gate Lane, Woodward Rd.
Comfort Inn
41 - Marsh Hill Rd.
Courtyard by Marriott
42 - Exit
Savin Rock
,
West Haven restaurants
, Dunkin Donuts, Friendly's
43 - WEST HAVEN Downtown
West Haven Hotel
44-50 - NEW HAVEN
Greyhound
Union Station
Exit 44 for
Sage American Oyster
46 - Long Wharf Dr., Sargent Dr., Community College
47 - Gateway College, RR Station,
New Haven Hotels
I-91 - I 95 Split
48 - I 91 exit
Q Bridge - Traveling over Pearl Harbor Bridge
The worst spots to get stuck in traffic (that is crawling along), is in New Haven, going over the Q bridge, and if there is an accident, forget it. Reroute using Route 1 or the Merritt Parkway. Traveling from the East on I-95, the place you're going to get backed up is Branford, Exit 57 (or maybe even before) all the way and past the Q Bridge.
The best time to travel during the week is between 10:00 and 2:00. The best time to travel on the weekends is early in the morning, or late at night. If you have a radar detector you may want to shut it off, because they have radar and video cams every mile, and the beeping will drive you crazy. So turn it off and watch your speed.
49 - Stiles Ave.
50 - Woodward Dr., Tweed New Haven Airport, Lighthouse Point Park
51 - East New Haven, Frontage Rd., Tourist Info Center, Holiday Inn Express

Highway Construction (widening, and building overpass)See Construction progress

53-56 - BRANFORD Branford Days Inn
53 - Town of Short Beach, CT Hospice, Hwy 1, Hwy 142
McDonald's is between Exit 53 and 54
54 - Branford - Cedar St.
55 - N. Branford, Downtown, East Main St., Economy Inn, Days Inn, Branford Motel, Motel 6
56 - Ramada Suites, Friendly's, USS Chowder Pot III (Exit 53 and turn left), TA Travel Center (The TA Travel Center has a nice cafeteria style restaurant there (along with gas), and we really enjoyed ourselves. They have souveniers galore and traveling items. This is where we got our coffee maker that plugs in the lighter socket. Now we can have coffee on the road anytime we want.)
57 - Food, lodging, but couldn't see anything from Interstate
58 - Henry Whitfield State Museum
59 - Food, lodging, but couldn't see anything from Interstate
61 - MADISON - says food, lodging, but couldn't see anything, Madison Hotels
Then there is a sign that says last stop for food or fuel on I-95, but don't believe it.
McDonald's is between Exit 61 & 62
62 - Hammonasset State Park Exit Map
63 - CLINTON - Friendly's, Clinton's Landing Mall
64 - Horse Hill Rd and Hwy 145 exit. Food, lodging, but we couldn't see anything.
65 - WESTBROOK - shoreline East; R R station- Sandpiper Inn, Knight's inn, Westbrook Inn, Motel 6; Denny's Restaurant; Dunkin Donuts; Mall
Connecticut Welcome Center (tourist information)
66 - OLD SAYBROOK (Don't speed through here, they will pull you over) Spencer Plain Rd
67 - RR stain, shoreline east, Saybrook Point Inn, Comfort Inn, Days Inn, Burger King Old Saybrook Hotels Old Saybrook Diner, Burger King, Subway; Hwy 154
68 - nothing
69 - Comfort Inn, Exit for Gillette Castle, Saybrook Fish House, Essex Steam Train, Exit right for Hwy. 9 North Hartford. Hartford Hotels
Bridge - traveling over Connecticut River
70 - OLD LYME - nothing advertised, Old Lyme Inn, Lynn Academy of Fine Arts, Hwy 1; Hwy 156; traffic slows as lane merges to a 2 lane
72 - Four Mile River Rd. says lodging, but we couldn't see any, Tourist Information Center (seasonal)
72 - Rocky Neck State Park exit
73 - EAST LYME - Society Rd., lodging, RV's, but couldn't see it.
74 - FLANDERS - NIANTIC - Hwy 161, Camp Rowland, Best Value Inn, Motel 6, Days Inn, Starlight Motor Inn.Niantic Hotels , Camp Rell
75 - WATERFORD - Ocean Beach Park, Harkness State Park exit, Blue Anchor Motel Waterford Hotels
76 - I-395 / I-95 split - Exit for Mohegan Sun or Foxwoods
77 - no exit
78 - no exit
79 - no exit
80 - no exit
81 - Cross Rd. exit (newly constructed)
82 - New London - Broad St., Waterford, Mitchell College, Mall, Hospital, Red Lobster
82a - New London - Frontage Rd, Spring Hill Suites, New London Mall, Red Roof Inn, Coast Guard Academy, Frontage Road
83 - NEW LONDON - Downtown, CT College New London Hotels, Fort Trumbull State Park
84 - New London - last exit
Bridge - Traveling over Thames River (Gold Star Memorial Bridge)
85 - GROTON - Downtown Groton Hotels, Thomas Street
86 - GALES FERRY - US Sub Base
87 - Clarence B Sharp Hwy. Fort Griswald State Park, University of Connecticut Avery Point
88 - NOANK - Hwy 117, Groton / New London Airport, Emergency Services, Ledyard
89 - Allyn Street - nothing to see
Scenic Overlook - scenic view of Mystic cove, no restrooms (Jerome Hoxie Scenic Overlook)
90 - MYSTIC - Seaport and Aquarium; Tourist Information Center, Mystic Inn, Howard Johnsons, Seasonal Camping, Mystic Hotels
91 - STONINGTON - N. Main St, Hwy 234 (Providence 44 miles away) North Stonington Hotels
92 - WESTERLY RI exit - Hwy. 2, Randalls Inn; Exit to go to Foxwoods, Custy's Lobster Buffet Westerly beaches exit Westerly Motels Watch Hill, Pawcatuck
93 - CLARKS FALLS - Hwy 216 Burlingame Campground and Park exit, McDonald's, gas
Connecticut Interstate 95 Exits End
Continue Traveling: Welcome to Rhode Island
---
Cool Stuff
See a list of
hotels and motels in CT with Jacuzzis and Fireplaces
Cooltan Tan Through Shirts and Swimwear
- Get a tan through your clothes! Shirts, shorts, and swimwear. Great for wash and go traveling.
Alpaca Blanket
- This has got to be the warmest, softest blanket I have ever felt, and great for winter travel, especially in New England!
Child Travel Tips
- How to keep the kids busy while traveling.
Travel Scrapbook
- Make a scrapbook while on vaction.
Connecticut Peapod
- Save time and money, grocery shop online in Connecticut. Peapod delivers groceries right to your door at the time that you select.
Stop and Shop CT Peapod
- Get $10 in FREE groceries in CT. Order anytime, day or night 24/7.