Abbott's Lobster Restaurants
Mystic, Noank, Connecticut
Mystic CT Visit historical old Mystic for a great weekend getaway. Take the Mystic River cruise.

Connecticut Camping
Lots of campgrounds to choose from. Have fun!

Connecticut Hotels Grab a reservation here. Easy and secure interface.

CT Lighthouses
View the different types and where they are located.

Cooltan Clothes Get a tan through your clothes. Great for vacations, golfing, and other outdoor sports
Travel Scrapbook Make a scrapbook while you travel on vacation.
Yes, I know Abbott's Lobster is not located in Mystic, but if it wasn't for us being at Mystic Seaport and taking the Mystic River Cruise, we never would have spotted Abbott's, or Costello's restaurant (where they serve all the fried seafood.)
We all really like lobster, and dining out in the open along the shoreline sounded rather inviting. We tried to memorize where Abbott's restaurant was located.
After the Mystic Ferry docked we got in our car and drove across the bridge to Downtown Mystic and followed the road left to try to find Abbott's.
This first picture was taken from the Mystic ferry as we were cruising by Abbott's Lobster Restaurant.
Well, we drove all the way to the Mystic lighthouse without finding Abbott's Restaurant. So we turned around and headed back. Apparently Abbott's is located in Noank CT. Long story short, we had to stop and ask someone how to get to Abbott's. Once we found Abbott's we parked and got in line. We were sooo hungry.
We took one look at the menu and we were drooling. But it took us awhile to decide what to get. We knew we wanted lobster, but only that would not fill our hungry appetites... Abbott's Lobster Restaurant Menu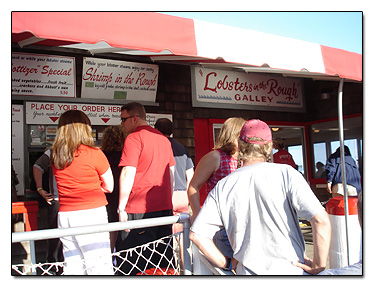 After placing our order we went to pick out a picnic table. We wasn't sure how our food was going to arrive. We waited and waited. Then finally they called our number. But when we went to get our lobsters only half of the order was prepared. They gave us our appetizers, drinks, baby Alannah's grilled cheese, and our clam chowder.
So we took our tray and sat down and waited some more. Finally they called our number out again, and it was for the lobsters. But we had no idea whose was which lobster, because we ordered different weights. We realized, after the fact, that they are marked by different colored bands. Each lobster came with a bag of chips and cole slaw. Abbott's Lobster meal
We tied on our bibs and dug in. But after we were finished, we were still looking for something to eat. We actually still had room for dessert. Amazing, since our bill was about $130.00
I had order the hot crab roll, because I knew a lobster wouldn't fill me up. Notice the wires over our head. The wires are to keep seagulls from swooping and swiping your lobster.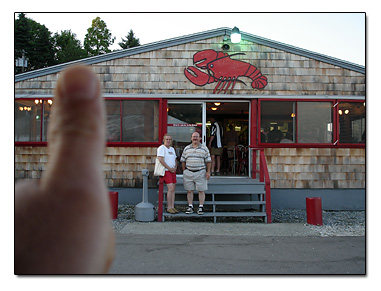 Below is exactly what we thought of Abbott's Lobster restaurant. The next time we go to Mystic however, we will be going down the street to visit Costellos's because we love fish and chips.
More Pictures of Abbott's Lobster Restaurant
- Jenilee teases baby Alannah with a lobster. You can see in the background that Abbott's also has a covered picnic area... Alannah at Abbott's Lobster
- So here's the great view you get when you go to Abbott's restaurant... Abbott's Scenic View

Driving Directions
From I-95 (Exit 89) From I-95 North...Turn RIGHT at Top of Exit Ramp. or.... From I-95 South...Turn LEFT at Top of Exit Ramp. Continue along Allyn St. until the intersection of US Route 1. Go Straight across US 1 at the traffic light. You are now on West Mystic Avenue.
At the SECOND stop sign on West Mystic Ave., Turn RIGHT onto CT Route 215. Continue on Rt. 215 about 1.5 mi. until STOP SIGN (the only one you come to on Rt. 215) Turn LEFT into the village of Noank (Mosher Ave.)
The street will curve to the right and become Ward Ave.
Pass the Firehouse and a gas station; just ahead is a stop sign at the intersection of Main Street. Turn LEFT on Main and then an immediate RIGHT onto Pearl St. Abbott's is on the end of Pearl St., about 0.3 mi.
---