Mohegan Sun
Connecticut Attractions
Mystic CT Visit historical old Mystic for a great weekend getaway. Take the Mystic River cruise.

Connecticut Camping
Lots of campgrounds to choose from. Have fun!

Connecticut Hotels Grab a reservation here. Easy and secure interface.

CT Lighthouses
View the different types and where they are located.

Cooltan Clothes Get a tan through your clothes. Great for vacations, golfing, and other outdoor sports
Travel Scrapbook Make a scrapbook while you travel on vacation.
What is one of the most favorite attractions in Connecticut?
Well the Mohegan Sun has got to be at the top of the list, along with Foxwoods.
We don't get to go to Mohegan Sun very often, but every time we do, we have a lot of fun. You don't have to spend a bunch of money either.
This first picture is of Mohegan Sun at a distance as we were driving up to it. It is very simple to find, well, you can't hardly miss it because it stands out so much with the new hotel they built.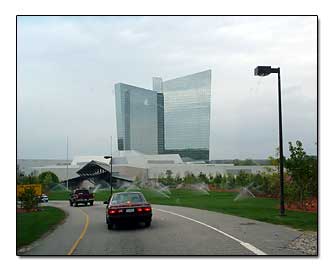 This second picture is the exit sign to Mohegan Sun.
Which you would take Exit 2 off of Interstate 395 Once you make the exit just follow it around, and follow the traffic because all the cars are all going to Mohegan Sun.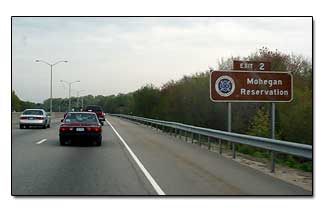 Be sure to view our other pictures, like the inside of Mohegan Sun and shopping in Mohegan Sun
Mohegan Hotel and Spa
34 story glass hotel tower with 1,200 rooms and 175 suites
27,000 square feet of sun terrace and indoor swimming pool.
22,000 square feet Elemis Spa and fitness center
Gaming Information
World Class, spectacularly themed casino with nearly 300 table games, 6,200 slot machines and so much more.
---