Knapp's Landing Restaurant
Mystic CT Visit historical old Mystic for a great weekend getaway. Take the Mystic River cruise.

Connecticut Camping
Lots of campgrounds to choose from. Have fun!

Connecticut Hotels Grab a reservation here. Easy and secure interface.

CT Lighthouses
View the different types and where they are located.

Cooltan Clothes Get a tan through your clothes. Great for vacations, golfing, and other outdoor sports
Travel Scrapbook Make a scrapbook while you travel on vacation.
Down in the same area towards Lordship in Stratford CT, is another popular shorefront restaurant called Knapp's Landing.
It's got to be Stratford's best kept secret.
We wouldn't have even known Knapp's Landing restaurant existed because the road you turn to get to it, is in an industrial area, and the sign is so small, you'll miss it. So it must be a popular local secret.
Actually, when I went into Marnick's restaurant to see if they serve seafood and lobster, a waitress said if I was looking for good lobster I should go to Knapps Landing.
But Knapps Landing restaurant is a little bit more upscale and a great place to go for a special occasion.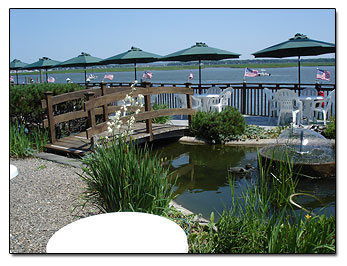 This is a view of the outside patio. Do not go to Knapps Landing without reservations, it is too popular.
More Pictures of Knapps Landing
-Front view of the restaurant... Knapps Landing
-The entrance sign to Knapps Landing... Knapps Landing entrance sign
Driving Directions:
Exit 32 off of I 95. Make a right at the light which is Main St. or Hwy.113. Follow Hwy.113 south several miles, keep going straight through town, and when you are across from the
Sikorsky
airport, which is on the right,
make a left
on a road right next to a huge factory, the road is called
Sniffen's Lane,
there is a huge parking lot fenced in, and the sign is hanging on that fence. So you are going to have to drive slow or you will miss the turn. Turn and follow this road all the way to Knapp's Landing.
---