Greyhound Bus Station
New Haven, CT
Mystic CT Visit historical old Mystic for a great weekend getaway. Take the Mystic River cruise.

Connecticut Camping
Lots of campgrounds to choose from. Have fun!

Connecticut Hotels Grab a reservation here. Easy and secure interface.

CT Lighthouses
View the different types and where they are located.

Cooltan Clothes Get a tan through your clothes. Great for vacations, golfing, and other outdoor sports
Travel Scrapbook Make a scrapbook while you travel on vacation.
We had to travel to the Greyhound Bus Station in New Haven CT to pick up a friend from Oklahoma.
So to keep from looking up the directions and location again, here they are.
Maybe someone out there in Internet land will need them too.
Here's what happened though. We showed up maybe an hour early because we were getting too excited.
We parked in a parking lot specified for the bus station(which is Union Station) and sat in their beautiful waiting area.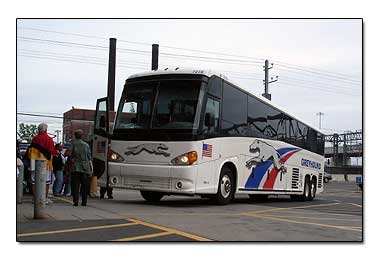 There is a Subway shop in there, and and the smell was driving us crazy.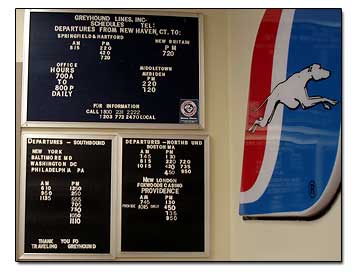 The bus was suppose to come in from New York at 4:20pm. At 4:20 it was not there yet. It arrived an hour late, at 5:20. Knowing the I:95 rush hour traffic though, we were not surprised. Here's a larger picture of the Greyhound Bus Schedule, you can click on the link to get the full size which is more readable. Of course these times may change eventually.
But here's a tip for you. If you are picking someone up, don't feel you have to get there early. The Parking Lot next door was a dollar an hour. So it cost us three dollars.
See an old picture I found in the attic of Greyhound Van Lines transporting the First Space Shuttle.
Driving Directions:
The bus station at Union Station is easy to find. From Derby CT, take Hwy. 34 South. After you pass Yale University make a right at that large intersection(Ella T Grasso Blvd), and follow it to Columbus St. and make a left. Follow Columbus Street ALL THE WAY till you hit Church Street.
Then Turn RIGHT (South) and follow it till it deadends and then make a LEFT which is Union Street. It's right by the AVIS RENT A CAR (about two blocks down) The Greyhound Station is located at 50 Union Street.
See what's at the Exits on Interstate 95 CT
---