7 Day Road Trip
New England States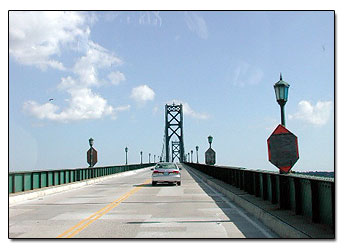 Question: We are two senior citizens planning a trip to the New England States. We would like to see something in every state in seven days.
We will be leaving in May from Jonesville NC.
Thank you,
Mack and Carol W.
Answer: Hi Mack and Carol, thanks for writing. In 7 days, you're taking a pretty quick trip, with more driving than sightseeing. Hopefully you are bypassing New York, and all major cities?
Here is our suggested 7 Day Road Trip through the New England States.
1. Day 1 - From Jonesboro NC, take Interstate 77 to Scenic Interstate 81. Follow 81 into Pennsylvania. Possible first night stop, between Hershey, Penn, and Hazelton.
2. Day 2 - Follow 81 north through Pennsylvania, take 84 out of Scranton, go through New York, catch Interstate 87 outside of Newburgh New York and head north. Outside of Albany take 787 to Hwy 7. Spend the night on the border of New York and Vermont in Bennington.
3. Day 3 - Leave the next morning, take Highway 9 to 101 through New Hampshire, stay at Hampton Beach on the Atlantic Ocean.
4. Day 4 - In the morning, head south on Interstate 95, bypass Boston, stop in Plymouth, Mass, have lunch, and see Plymouth Rock. Continue driving south to Cape Cod. Have supper in Cape Cod and spend the night.
5. Day 5 - In the morning, leave Cape Cod, drive to Newport, Rhode Island and have lunch and view some mansions. Continue driving west to Mystic CT. Spend the night.
6. Day 6 - In the morning, follow Interstate 95, as far as you can go. Exit 26 and have lunch in Captain's Cove. Get back on Interstate 95, and head toward New York City, stay on Interstate 95, go over the Washington Bridge. Take Interstate 95 to Interstate 78, spend the night around Allentown, PA
7. Day 7 - Wake up, have a great breakfast and continue traveling home.
See the map for this New England Trip. See closer view
So to do this "7 Day Road Trip" you need a reservation in:
- Hershey or Hazelton PA - 1 night with access to Interstate 81
- Bennington, Vermont - 1 night
- Hampton Beach, New Hampshire - 1 night
- Sandwich, Cape Cod - 1 night
- Mystic CT - 1 night - Interstate 95 access
- Allentown PA or nearby - 1 night
---