Captain's Cove Marina
Bridgeport, CT
Mystic CT Visit historical old Mystic for a great weekend getaway. Take the Mystic River cruise.

Connecticut Camping
Lots of campgrounds to choose from. Have fun!

Connecticut Hotels Grab a reservation here. Easy and secure interface.

CT Lighthouses
View the different types and where they are located.

Cooltan Clothes Get a tan through your clothes. Great for vacations, golfing, and other outdoor sports
Travel Scrapbook Make a scrapbook while you travel on vacation.
Captain's Cove Marina is located on the water in Bridgeport, CT, (see the Bridgeport Lighthouse) but actually it sits at Black Rock Cove.
My mother and sisters flew in from Indiana, and they wanted to go to a tourist spot close to where we live.
I chose Captain's Cove Seaport because we hadn't been there in several years, and I knew they would enjoy it.
We found our way to Captain's Cove without a problem, the signs to Captain's Cove Marina were well marked this year, along the way from CT Interstate I95.
When we turned into the parking lot of Captain's Cove, we were surprised there wasn't any cars there, but then we found out, after talking to a shop owner, that not much happens there till about noon. The large buoys you see in the top picture decorate the parking lot.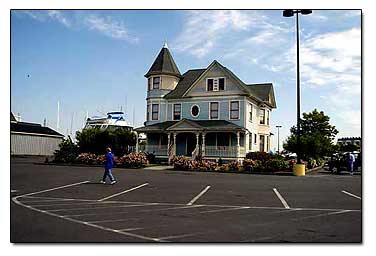 They have also moved a historical New England home here, and it is beautiful. It's called the Dunn Home, and it was restored and moved here in 1991. It has displays of lighthouses and other nautical items, and things that scuba divers found in Long Island Sound.
The information of the history of Captain's Cove Marina was posted with pictures on the inside of the Captain's Cove restaurant, but a fishing house is the only original building still standing, and it houses a jewelry shop.
Driving Directions
The directions to Captain's Cove Seaport are simple. On I-95 from north or south, Exit 26 to Bostwick Ave. Follow Captain Cove's well placed signs. Captain's Cove is also close to the Bridgeport Ferry, Memorial Seaside Arch, and the Bridgeport beach, so you could visit there too.
Stay at the Holiday Inn Bridgeport Ct 1070 Main St. Bridgeport, CT
Traveling Tip: One thing to say about traveling to Captain's Cove, is that you are going to feel like you're lost, because of all the empty lots and old factories left from days gone by.
This quaint Captain's Cove tourist spot is stuck at the edge of nowhere. Bridgeport used to be a hotspot for tourists in the early 1900's, and used to be called Park City.
It was heavily industrialized during the Industrial Revolution. Unfortunately Bridgeport has lost most of it's inner city charm, and it seems to be always under construction.
---