Colebrook Lake Pictures
Northwestern CT
Colebrook Lake is a nice place to visit or fish in northwestern Connecticut.
We found it by accident driving Route 8 north past Winsted, Conn.
Here's some pictures that we took.
There were some children fishing there, and it has a nice scenic view.
I don't think there is any swimming here though.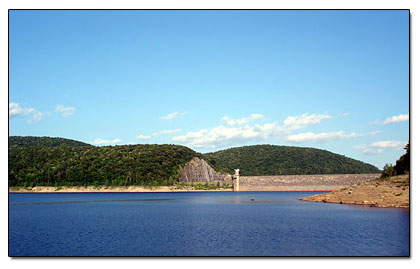 There are very scenic views and a place to park, it's kind of like a scenic overlook type of place. There are two places where you can take in the scenic view, from the dam and from the boat launch. A better view is from the dam in our opinion.
Colebrook Lake Route 8 North CT is several miles before you hit the MA border. No Swimming, just Colebrook Lake Fishing. No picnic tables, no beach, no restrooms, no snack bars. It's more like a scenic rest area.
A closer view of the dam at Colebrook Lake, see more pictures below.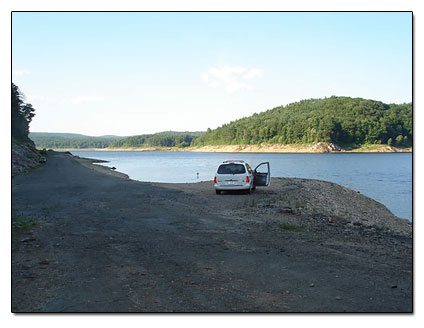 Many people come here just to take in the scenic view.
Driving Directions to Colebrook Lake
Route 8 north past Winsted. You'll soon see signs. See location map
---
Cool Stuff
See a list of
hotels and motels in CT with Jacuzzis and Fireplaces
Cooltan Tan Through Shirts and Swimwear
- Get a tan through your clothes! Shirts, shorts, and swimwear. Great for wash and go traveling.
Alpaca Blanket
- This has got to be the warmest, softest blanket I have ever felt, and great for winter travel, especially in New England!
Child Travel Tips
- How to keep the kids busy while traveling.
Travel Scrapbook
- Make a scrapbook while on vaction.
Connecticut Peapod
- Save time and money, grocery shop online in Connecticut. Peapod delivers groceries right to your door at the time that you select.
Stop and Shop CT Peapod
- Get $10 in FREE groceries in CT. Order anytime, day or night 24/7.