Colebrook Lake Pictures
Northwestern CT
Mystic CT Visit historical old Mystic for a great weekend getaway. Take the Mystic River cruise.

Connecticut Camping
Lots of campgrounds to choose from. Have fun!

Connecticut Hotels Grab a reservation here. Easy and secure interface.

CT Lighthouses
View the different types and where they are located.

Cooltan Clothes Get a tan through your clothes. Great for vacations, golfing, and other outdoor sports
Travel Scrapbook Make a scrapbook while you travel on vacation.
Colebrook Lake is a nice place to visit or fish in northwestern Connecticut.
We found it by accident driving Route 8 north past Winsted, Conn.
Here's some pictures that we took.
There were some children fishing there, and it has a nice scenic view.
I don't think there is any swimming here though.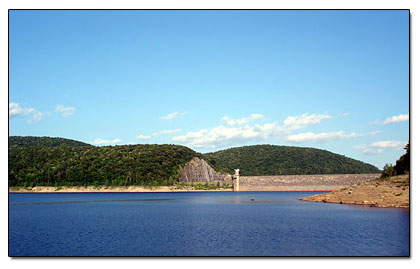 There are very scenic views and a place to park, it's kind of like a scenic overlook type of place. There are two places where you can take in the scenic view, from the dam and from the boat launch. A better view is from the dam in our opinion.
Colebrook Lake Route 8 North CT is several miles before you hit the MA border. No Swimming, just Colebrook Lake Fishing. No picnic tables, no beach, no restrooms, no snack bars. It's more like a scenic rest area.
A closer view of the dam at Colebrook Lake, see more pictures below.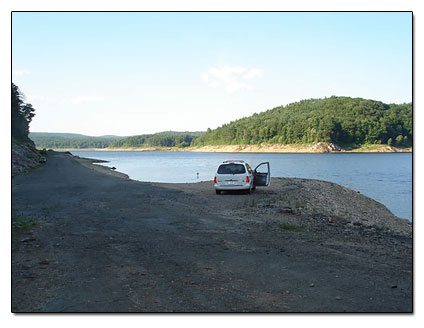 Many people come here just to take in the scenic view.
Driving Directions to Colebrook Lake
Route 8 north past Winsted. You'll soon see signs. See location map
---