Fred's Shanty Snack Shop
New London CT
Freds Shanty is our favorite place for a quick lunch when we're in New London, CT.
It sits overlooking the historical Thames River, and is about two miles from Ocean Beach Park.
There are private beaches nearby and the new London lighthouse.
If you stop at Fred's Shanty be sure to try their famous New England clam chowder.
We also grab their cheeseburgers and french fries, that they make a special way. Yum, Yum, they are so good. Sit at the picnic tables under the awning, and enjoy the view and the food.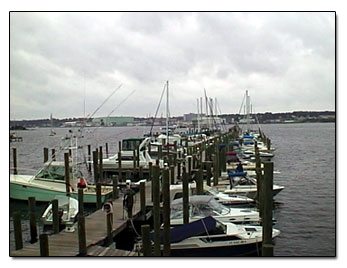 Freds Shanty is open from early Spring to October. At lunchtime it's sometimes hard to find a place to park so go early. Mitchell College is right down the street. If you follow the shoreline road south you can see the New London Lighthouse.
Fred's Shanty is located on the waterfront at
272 Pequot Ave, New London, CT Phone: 860-447-1301
---
Cool Stuff
See a list of
hotels and motels in CT with Jacuzzis and Fireplaces
Cooltan Tan Through Shirts and Swimwear
- Get a tan through your clothes! Shirts, shorts, and swimwear. Great for wash and go traveling.
Alpaca Blanket
- This has got to be the warmest, softest blanket I have ever felt, and great for winter travel, especially in New England!
Child Travel Tips
- How to keep the kids busy while traveling.
Travel Scrapbook
- Make a scrapbook while on vaction.
Connecticut Peapod
- Save time and money, grocery shop online in Connecticut. Peapod delivers groceries right to your door at the time that you select.
Stop and Shop CT Peapod
- Get $10 in FREE groceries in CT. Order anytime, day or night 24/7.