Pachaug State Forest
Voluntown, CT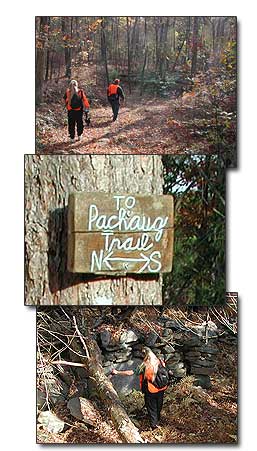 This is Pachaug State Forest that is located in Voluntown, Connecticut.
Our friend Rich loves to hike the trails in the forest at Pauchag, and there are a lot of them.
He even volunteered to trim the brush back off the paths.
He invited us to go camping last year during the Fall.
We camped out in our van and there was no charge because it was off season.
You can tell it is a popular place with two separate camping areas with nearby fishing and pond swimming.
There are several old foundations in the woods that we found, the bottom picture is of me standing by one of these old foundations.
There are lots of marked trails for exploring. Hope we get to go back again sometime.
More Connecticut Parks
Black Rock State Park
Pachaug State Park
Naugatuck State Forest
Indian Well State Park
Hammonasset State Park
Rocky Neck State Park
Southford Falls State Park
Lighthouse Point Park
Gillette Castle
Lake Zoar and Stevenson Dam
Colebrook Lake
Webb Mountain in Monroe
Camping Supplies List
Connecticut Campgrounds
---
Cool Stuff
See a list of
hotels and motels in CT with Jacuzzis and Fireplaces
Cooltan Tan Through Shirts and Swimwear
- Get a tan through your clothes! Shirts, shorts, and swimwear. Great for wash and go traveling.
Alpaca Blanket
- This has got to be the warmest, softest blanket I have ever felt, and great for winter travel, especially in New England!
Child Travel Tips
- How to keep the kids busy while traveling.
Travel Scrapbook
- Make a scrapbook while on vaction.
Connecticut Peapod
- Save time and money, grocery shop online in Connecticut. Peapod delivers groceries right to your door at the time that you select.
Stop and Shop CT Peapod
- Get $10 in FREE groceries in CT. Order anytime, day or night 24/7.