All You Can Eat Buffet
Connecticut Restaurants
Mystic CT Visit historical old Mystic for a great weekend getaway. Take the Mystic River cruise.

Connecticut Camping
Lots of campgrounds to choose from. Have fun!

Connecticut Hotels Grab a reservation here. Easy and secure interface.

CT Lighthouses
View the different types and where they are located.

Cooltan Clothes Get a tan through your clothes. Great for vacations, golfing, and other outdoor sports
Travel Scrapbook Make a scrapbook while you travel on vacation.
Why do we have a list of All You Can Eat Restaurants in CT?
When we travel we get real hungry, and at the buffets you get a variety of food for an affordable price.
If we ate at McDonald's we would spend at least $15.00 or more, so why not eat some good food while you're on the road.
Hometown Buffet is the major All You Can Eat Restaurant chain in Connecticut.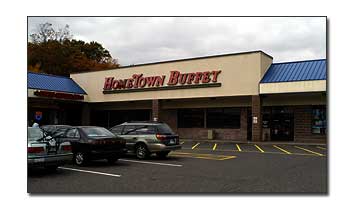 The list below is organized by city. You can easily print it, and take it with you when traveling.
Know of a CT buffet we can add to this list? Email Carol at ckononov@aol.com
Also see Ct Seafood Restaurants and CT Pubs and Inns
All You Can Eat Restaurants in CT
Bloomfield, CT
- Jumbo Buffet Chinese Restaurant - 323 Cottage Grove Rd.(in Copaco Shopping Center) Phone: (860)243-3931 Location
Branford, CT
- Shoreline Buffet Restaurant - 310 E Main St., Phone: (203) 481-4373
- China Garden Buffet - 1060 Main St Branford, CT (203) 488-8888
Bridgeport, CT
- Captain's Cove Retaurant - 1 Bostwick Ave. Phone: (203)335-1433
Bristol, CT
- Century Buffet - 623 Farmington Ave., Phone: (860) 583-8883
Cheshire, CT
- Dragon Buffet - 944 S Main St., Phone: (203) 250-0099
Clinton, CT
- Clinton Buffet - 192 E Main St., Phone: (860) 669-5898
Derby CT
- City Buffet - located on Pershing Drive, across from Xpect Discounts
Enfield CT
- China Buffet - 95 Elm St Enfield, CT (860) 745-3328
- Hometown Buffet - 14 Hazard Ave., -CLOSED-
- Royal Buffet - 55 Palomba Dr., Phone: (860) 749-7888
East Hartford, CT
- Hong Kong Buffet - 720 Silver Lane, Phone: (860) 568-8898
- Luen Hop Chinese Buffet 265 Ellington Rd East Hartford, CT (860) 282-8288
East Haven, CT
- Bon China Buffet 25 Frontage Rd East Haven, CT (203) 467-6649
Groton, CT
- New Hong Kong Chinese Buffet - 441 Long Hill Rd., Phone: (860) 445-7777
Hamden, CT
- East Buffet - 2100 Dixwell Ave., Phone: (203) 288-8898
- Dragon Buffet 2151 State St Hamden, CT (203) 777-6667
Hartford, CT
- Chinese Buffet - 310 Prospect Ave., Phone: (860) 523-8899
- Ban Brazil Buffet - 5 S Whitney St Hartford, CT (860) 232-4486
Manchester, CT
- Dragon Buffet 363 Broad St Manchester, CT (860) 647-7775
- Hometown Buffet - 165 Slater St., Phone: (860) 644-5160
- Century Buffet - 238 Tolland Tpke., Phone: (860) 649-3883
(former King Buffet is now a Japanese based buffet with TONS of Sushi)
Mashantucket, CT
- Foxwoods Festival Buffet - 39 Norwich-Westerly Rd., Phone: (860)312-3000
Middletown, CT
- Hong Kong Buffet - 911 Washington St., Phone: (860) 347-4864
Milldale, CT
- Young-Young Chinese Buffet 1666 Meriden Waterbury Tpke Milldale, CT (860) 621-7678
Milford, CT
- Gourmet Buffet - 486 Bridgeport Ave., Phone: (203) 878-7830 - The "Gourmet Buffet" is an All you can Eat right on Boston Post Rd. It sits in a little shopping mall and we really enjoy eating there. They feature a food bar that is Chinese, and a food bar that is American, which gives you quite a variety of food. They have all you can eat crab legs but only on certain days.
- Hometown Buffet - 74 Turnpike Sq., Phone: (203) 877-6335 - The other All you can Eat Buffet in Milford is a "Hometown Buffet" and it is on Boston Post Rd too. They have a really nice atmosphere for dining, but for some reason I always leave there disappointed. If I had a choice between the two, I would go with the Gourmet buffet. They don't have that much of a dessert line, but hey, we're always too full for dessert, anyway
Mystic, CT
- International Buffet - 12 Coogan Blvd., Closed
New London, CT
- Panda Buffet - 2.3 miles NE - 351 N Frontage Rd., Phone:(860) 447-3366
North Haven, CT
- China Buffet - 117 Washington Ave , Phone: (203) 234-9294
North Stonington, CT
- Custy's all you can eat lobster buffet
- Also see the Nordic Lodge Lobster Restaurant in Rhode Island
Norwalk, CT
- Oriental Buffet - 280 Connecticut Ave. Phone: (203) 866-9100
Norwich, CT
- Infinity Palace Chinese Buffet - 77 Salem Tpke # 115 Phone: (860) 886-8388
- New Asia Buffet - 680 Boswell Ave Norwich, CT (860) 887-9011
Plainville, CT
- Chung's Buffet - 311 New Britain Ave., Phone: (860) 747-3836
- China Buffet 132 New Britain Ave Plainville, CT (860) 793-8810
- Imperial Buffet 282 New Britain Ave Plainville, CT (860) 410-1888
Southington, CT
- Buffet 2000 - 855 Queen St., Phone: (860) 621-5555
- Ponderosa Steak House has a full American buffet at 264 Queen Street, Southington, CT.
Stamford, CT
- King Buffett, 48 6th Street, Phone: (203) 348-8855
- Brock's Restaurant - Seafood Buffet - CLOSED -
- Summer Chinese Buffet - CLOSED -
Uncasville, CT
- Mohegan Sun Buffets - 1 Mohegan Sun Blvd. Phone: 1-888-226-7711
Vernon, CT
- Vernon Super Buffet at 295 Hartford Turnpike, Vernon, CT is fairly new and rather large.
Wallingford, CT
- Chinese Buffet - 1240 S Broad St., Phone: (203) 294-9400
Waterbury, CT
- Hometown Buffet - 315 Union St. (next to the mall) Phone: (203) 597-0909
- Mr Wok Chinese Buffet - 117 Sharon Rd Waterbury, CT (203) 753-8000
- Sun Hing Buffet - 720 Wolcott St Waterbury, CT (203) 755-8888
Waterford CT
- King Buffet - 117 Boston Post Rd., Phone: (860) 447-9868
Watertown, CT
- Imperial China Buffet 615 Straits Tpke Watertown, CT (860) 274-9888
West Hartford, CT
- Hometown Buffet - 52 Kane St., Phone: (860) 236-4848
Wethersfield, CT
- East Buffet 188 Silas Deane Hwy Wethersfield, CT (860) 563-1888
- Grand Buffet - 2139 Berlin Turnpike, Phone: (860) 665-9888
- Hometown Buffet - 1267 Silas Deane Hwy., Phone: (860) 721-6447
Willimantic, CT
- Royal Buffet - 1228 Main St., Phone: (860) 423-2858
Windsor Locks, CT
- China King Buffet - 5 National Dr., Phone: (860) 386-0828
Woodbridge, CT
- Fan Shun Buffet - 1646 Litchfield Tpke Woodbridge, CT (203) 387-8899
---