Lake Zoar, Stevenson Dam
Stevenson, CT
Mystic CT Visit historical old Mystic for a great weekend getaway. Take the Mystic River cruise.

Connecticut Camping
Lots of campgrounds to choose from. Have fun!

Connecticut Hotels Grab a reservation here. Easy and secure interface.

CT Lighthouses
View the different types and where they are located.

Cooltan Clothes Get a tan through your clothes. Great for vacations, golfing, and other outdoor sports
Travel Scrapbook Make a scrapbook while you travel on vacation.
Lake Zoar and the dam is located in Stevenson, Connecticut.
Stevenson Dam is on the Housatonic River, and was built in 1919 by the Connecticut Light and Power Company to produce hydroelectric power.
The resulting Lake Zoar is the fifth largest freshwater body in the state. They say that the lake now covers the original village of the Pootatuck Indians.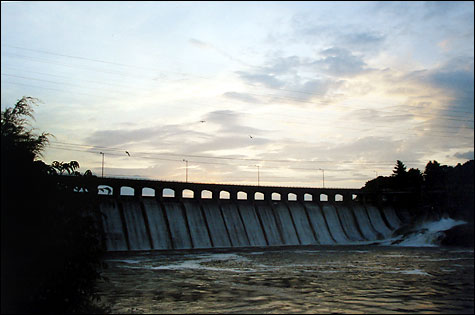 On the day we were here, all the gates were open. We also heard that when the dam was built, all the fishermen complained because there wasn't anymore runs of fish. So the fishing industry practically came to a standstill. It also lowered the level of the Housatonic about ten feet.
Still now, when we get lots of rain or all the snow suddenly melts, the sirens go off to let everyone know downstream that they are opening the gates to release water.
The Stevenson dam actually helped the people that had farms because it stopped the flooding in the lowlands. They are now talking about replacing Stevenson dam, because the road across it is very small, the turns are sharp, and the semi-trucks use it. Yikes!
They may even occasionally have tours of the dam, but we're not sure about that anymore.
Driving Directions:
To get to the park below the Stevenson dam for a scenic view, or to go fishing, make a sharp left after you go over the Stevenson dam and park your car below.
There use to be a nice picnic park there, but last time we went it was overgrown with weeds and they are doing some type of construction.
If you follow Highway 34 and go to the right, you'll pass a boat launch and private swimming area, then there is a great roadside called the Lake Zoar Drive-in to eat lunch. Park in their parking lot. We get their hamburgers and fries and sit at a picnic table, and enjoy the scenic view of Zoar Lake. Lots of fun!
More Connecticut Parks
Black Rock State Park
Pachaug State Park
Naugatuck State Forest
Indian Well State Park
Hammonasset State Park
Rocky Neck State Park
Southford Falls State Park
Lighthouse Point Park
Gillette Castle
Lake Zoar and Stevenson Dam
Colebrook Lake
Webb Mountain in Monroe
Camping Supplies List
Connecticut Campgrounds
---