Rocky Neck State Park
Camping in East Lyme, CT
Mystic CT Visit historical old Mystic for a great weekend getaway. Take the Mystic River cruise.

Connecticut Camping
Lots of campgrounds to choose from. Have fun!

Connecticut Hotels Grab a reservation here. Easy and secure interface.

CT Lighthouses
View the different types and where they are located.

Cooltan Clothes Get a tan through your clothes. Great for vacations, golfing, and other outdoor sports
Travel Scrapbook Make a scrapbook while you travel on vacation.
Rocky Neck has two campground areas, both are very scenic and well maintained.
When we took these pictures, there were three people camping there with tents, and the place isn't even open.
The second picture is the camping office at the entrance to the campground.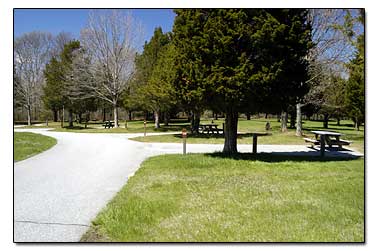 The sign in the window says, pick your spot and the park ranger will come around and collect the fee.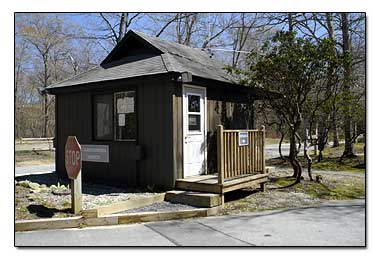 We like this idea better, picking our own spot, instead of them assigning you a spot. We don't know if this holds true for summer camping, but we have always liked this method of collecting fees.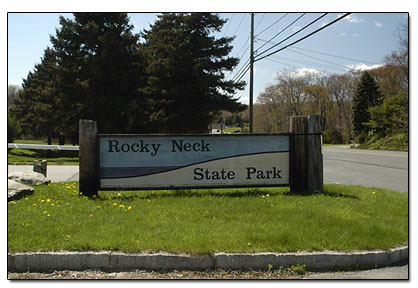 The entrance sign to Rocky Neck State Park
More Pictures of Rocky Neck State Park
- A view of Rocky Neck Beach... Rocky Neck Beach view
- The entrance to Rocky Neck State Park... Park entrance
- A picture of the Rocky Neck State Park map... Rocky Neck map
- Closeup of the Rocky Neck office signs... office signs
- Rocky Neck directional sign... this way to camp

Also see the Ellie Mitchell Pavilion in Rocky Neck State Park, or see more pictures of the Rocky Neck Beach.
Driving Directions
Take CT Interstate 95 and exit 72 - Rocky Neck State Park
Motels near Rocky Neck State Park
---